'Like at the bazaar': German politicians angry over Turkey's EU negotiation tactics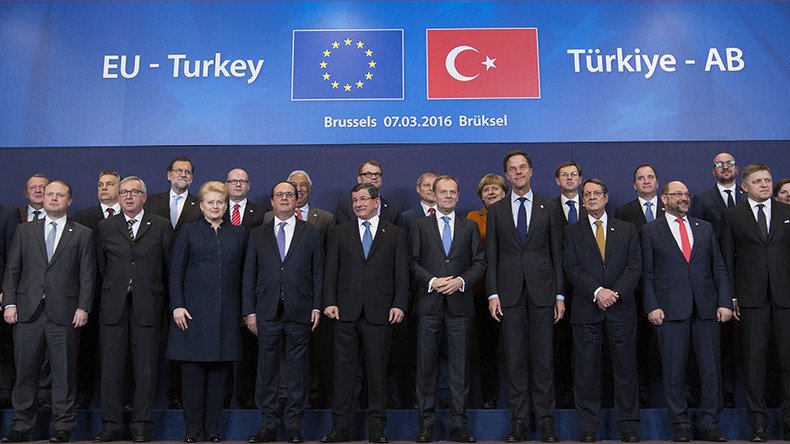 Several top Christian Social Union officials have said their party, an ally to Angela Merkel's CDU, is against a visa-free regime with Turkey and the prospects for its EU bid because Ankara plays "cat and mouse" and raises demands "like at a bazaar."
Politicians from the Christian Social Union (CSU), the party chaired by Bavarian Prime Minister Horst Seehofer, have warned the government of making too many concessions to Turkey in light of the recent agreement to settle the European refugee crisis.
"The EU's negotiating position has undoubtedly worsened over the past months because of the EU's internal strife on the refugee crisis. The Turks were putting forward new demands and raised the price [of the deal] like at the bazaar," the CSU's secretary general, Andreas Scheuer, told Passauer Neue Presse newspaper on Wednesday.
"CSU is against Turkey's EU accession and against a full-scale visa-free regime for all Turks."
However, German government spokesman Steffen Seibert told journalists on Wednesday the EU is not going to lower its demands for Turkey to be granted visa-free travel to Europe.
"We will now speed up the examination of whether the necessary requirements that Turkey must fulfill, the necessary criteria, are satisfied," he was quoted by Reuters as saying. "We are ready, where appropriate, to accelerate this but there will not be any lowering of quality standards," he said.
According to Turkish Prime Minister Ahmet Davutoglu, a visa-free regime between the EU and Turkey could be established by the end of June. French President Francois Hollande, however, said that "visa liberalization could take place in June if the criteria are respected, there are 72 [of them]."
Chancellor Merkel welcomed the prospect of a visa-free regime, although she stressed that Ankara's bid to join the EU "was not on the agenda." The outcomes of the EU-Turkey summit were met with skepticism by some ministers in Merkel's cabinet.
"I envision the visa liberalization and accelerated talks on [Turkey's] EU accession critically," German Federal Minister of Transport Alexander Dobrindt was quoted as saying by Augsburger Allgemeine newspaper. Any visa-free regime, he said, has to come with clear rules, restrictions and controls. "Otherwise it will create a basis for a new illegal migration."
"Turkey plays 'cat and mouse' with us," the vice-chairman of the CSU faction in the Bundestag, Hans-Peter Friedrich, said.
Previously, the EU said it would offer Turkey €3 billion (US$3.3 billion) between now and 2018, in addition to the €3 billion it had already promised to implement the scheme last year. In return, under the deal, for every Syrian national readmitted by Turkey from Greek islands, another Syrian will be resettled from Turkey to the EU countries.
The UN's human rights body previously criticized the "quick fix" deal, saying it will expose migrants to huge risks as well as violate EU and international laws on the right to protection.
Speaking at a UN briefing on Tuesday, Vincent Cochetel, the UN High Commissioner for Refugees Europe Bureau Director, stressed that "collective expulsion of foreigners is prohibited under the European Convention on Human Rights."
You can share this story on social media: