Guard unwittingly directs driverless car out of parking lot (VIDEO)
Published time: 9 Mar, 2016 08:15
Edited time: 9 Mar, 2016 08:23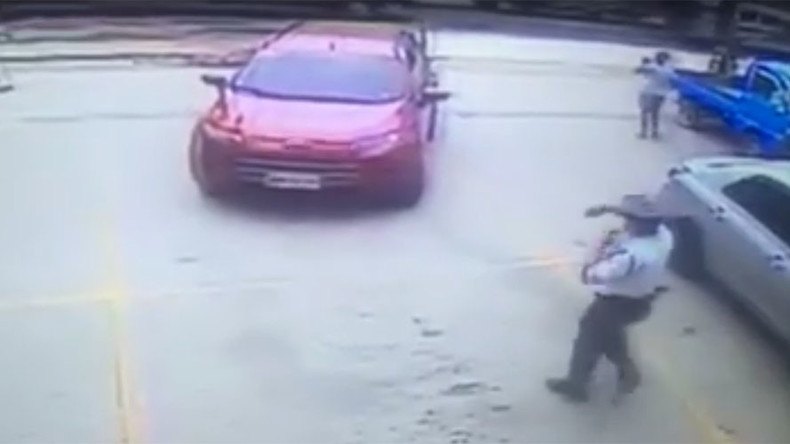 CCTV footage captured in the Philippines shows a security guard doing his good deed for the day by directing a reversing car out of a parking lot, oblivious to the fact that there was no driver inside and the car had actually rolled out all on its own.
Miki Esguerra Antonio parked her car before she ran into the bank but when she returned the vehicle wasn't where she left it.
Nakakaloka na pangyayare!!Nag deposit lang ako sa BDO sta rita..At nag park sa harapPaglabas ko ng bangkoWala na sa pinagparkan ko ang kotse ko Nabago na ang parking e nasa akin ang susiAt wala naman naiwan sa loob ng kotse at wala ako kasama!!! Nakakaloka!! Anyway thank you pa din kase walang nangyare na masama sa kotse!!nabago lang ang parking!!!clueless ako talaga..paanu nangyare yun..as in wala naman ako kasama..NAKA HAND BRAKE thats for sure at nakita mismo ng guard,,!see full videos..part 1 and part 2...thanks

Опубликовано Miki Esguerra Antonio 15 февраля 2016 г.
The video shows Antonio getting out of the car, having forgotten to put the handbrake on, with the vehicle eventually rolling backwards.
As the car picks up momentum, the kind-natured security guard presumes the driver needs assistance and helps direct the car, giving directions as to how to steer it out.
By coincidence, the car's steering wheel had been left at an angle that allowed it to roll out of the parking lot perfectly and onto the sidewalk, with the guard then returning to his post, completely unaware the vehicle was missing its driver.
Luckily for Antonio, the car didn't crash into anyone or anything while rolling backwards, and eventually came to a stop on the sidewalk.
"I'm really clueless," Antonio wrote on her Facebook page when she posted the footage to the site.
READ MORE: Driverless 10-ton tram ploughs through traffic in Kazakhstan (VIDEO)
The video has racked up over 250,000 views, with many joking that the quality of the reversing was actually quite impressive.
"The reverse was quite good, much better than most drivers," wrote one user, while another joked that the car was "just trying to avoid being driven by that woman again."
Others noted that the woman was lucky nobody was injured by the incident, while the guard's lack of awareness left others tickled.
"That guard's on the ball," one comment reads.
"Cop was like 'There! Help a civilian a day task accomplished'," another wrote.