ISS crew returns to Earth after nearly year in space
Published time: 2 Mar, 2016 04:31
Edited time: 2 Mar, 2016 11:00
After spending almost a year aboard the International Space Station, Russian cosmonaut Mikhail Kornienko and US astronaut Scott Kelly finally stepped back onto terra firma when the Russian Soyuz TMA-18M spacecraft successfully touched down in Kazakhstan.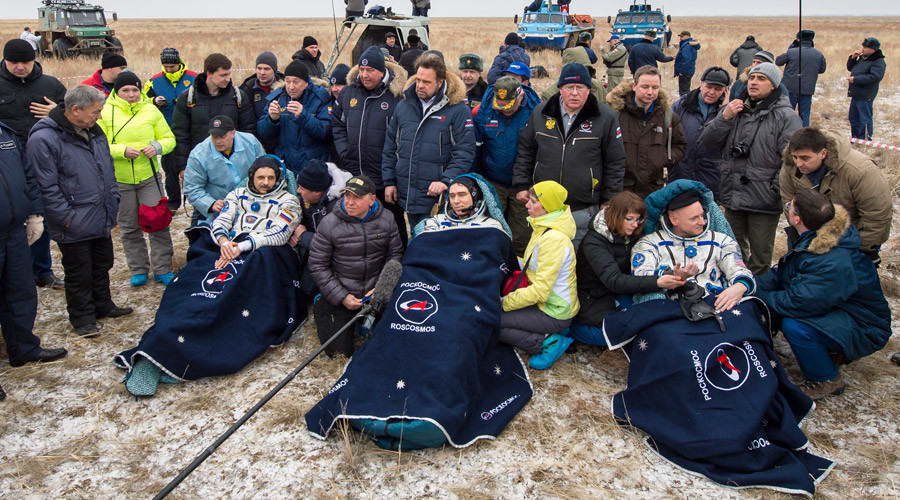 Besides Kelly and Kornienko a third crew member of Expedition 46 – Russian cosmonaut Sergey Volkov, was delivered back to earth. He was less fortunate and spent only 182 days in orbit.
Russian recovery forces stationed nearby rushed to the landing site to help the returning heroes to get out of the cramped descent module for initial medical checks and to facilitate phone calls home to family and friends.
After more extensive medical checks, the Russians will fly back to Star City near Moscow for debriefing and rehabilitation, while Kelly will continue his journey to his homeland.
Over the course of 340 days Kelly and Kornienko covered more than 143 million miles on board the ISS, and have even managed to grow space's first flowers. The scientists also squeezed almost 400 experiments over the course of 5,440 orbits which offered spacemen an unparalleled experience to witness almost 11,000 sunrises and sunsets.