Ukraine's top narcotics cop makes 'junkies' cook drugs live on TV
Published time: 1 Mar, 2016 10:47
Edited time: 1 Mar, 2016 10:54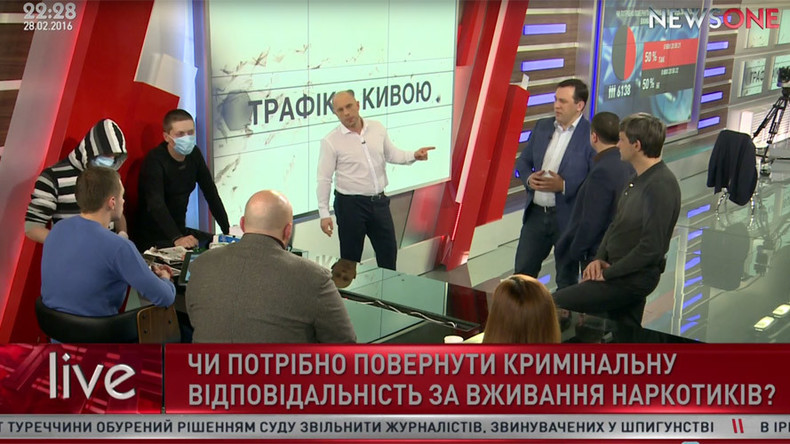 Ukraine's controversial new narcotics chief has hosted a live TV show in which he introduced two 'junkies' and had them cook recreational drugs from legal medicines. He then ordered the pair to be arrested and put into rehabilitation.
The show, "Traffic with Kiva," aired for the first time on Sunday on the NewsOne channel. Lieutenant Colonel Ilya Kiva invited several guests to discuss the challenges he faces in his new job. He brought out two young men wearing surgical masks and gloves, whom he introduced as "junkies" who had volunteered to demonstrate "the dirt that you don't want to see."
As part of the show the two men, identified as Sergey and Vladimir, were told to make several doses of the recreational drug desomorphine, also known by its street name 'krokodil,' from prescription medicines purchased in a drug store and other legal ingredients. Kiva said his department has no legal basis to crackdown on drugstores involved in what he called "pharma mafia." At the end of the program the police chief called two officers and had his guests arrested for the deed, saying they would get a minimum punishment for it.
"This is no show," Kiva stressed. "This is all for real."
Kiva is no stranger to controversy. He had a stellar career in the Ukrainian police, rising in just over a year from commander in a volunteer battalion to deputy regional police chief to head of the narcotics department of the Interior Ministry. His patron, Interior Minister Arsen Avakov, also awarded him a handgun for "exemplary merit" on duty.
He was appointed to the general-level position in October 2015 despite having a now-expunged criminal record for demanding a bribe, lacking the necessary legal and investigative background, and having been diagnosed with a mental disability in the past.
Since then, Kiva has come out with several controversial statements. He said he would break the law "to save lives," called for criminalizing heavier recreational drugs while legalizing pot, and admitted to taking cocaine in the past.
According to his Facebook page, he reports his job as mostly consisting of crackdowns on street drug pushers and drug stores.
His appointment is not final yet, as Kiva has so far not passed a re-evaluation procedure that all serving police officers in Ukraine have to go through as part of an ongoing reform. The head of the Ukrainian police, Khatia Dekanoidze, said in an interview that she didn't see a place for Kiva in the reformed force.