From lion cage to battlefield: Female animal trainer fights militants in Syria's Aleppo (VIDEO)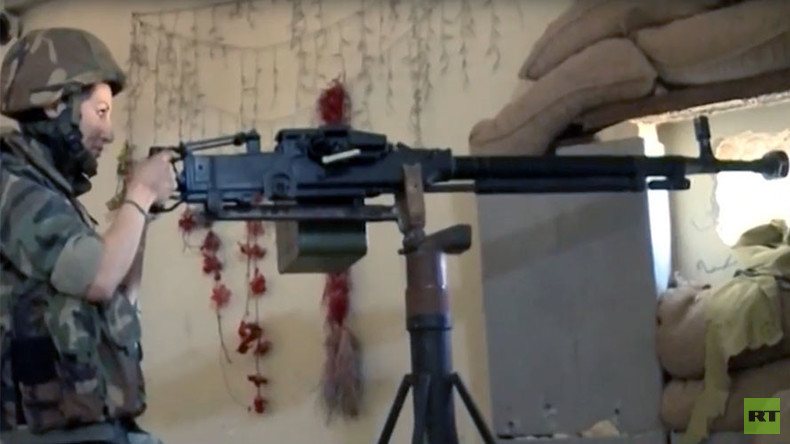 Rose, a former lion tamer, and now the only female soldier fighting militants in the old city of Aleppo is regarded as one of the best combatants by her brothers in arms. RT's Lizzie Phelan went to the frontline to talk to the woman.
"When Rose first came here all of the soldiers in her sector were astonished to have a girl among them, but only a few days later, she proved to be like them or even better than them in dealing with the armed groups," Syrian army Colonel Iyad said.
Many women joined the Syrian Army to avenge the deaths of their husbands, lovers or sons in combat. However, it wasn't the case with Rose, or as she's also known to her enemies, Abu Jaffer or Uncle – after one of the lions she raised before the war, while working in a zoo.
"When this crisis began and I left the zoo, I decided to work and serve my country here so that I can get my zoo and old job back. I expected it would be a matter of one or two years, but we are still here now in our positions," she said.
"I was very attached to the animals I raised, I loved them. Now they're in an area controlled by the opposition, it is a very big sacrifice for me to be away from them," Rose added.
The tamer used to work with lions, hyenas and other dangerous animals before the war broke out in Syria back in 2011.
"Depending on the battle I decide which weapon I use – a machine gun, BKC, Dhushka – any weapon, which is in my hands, I use it to cover the troops while they're advancing," the woman said.
Rose's commander stressed that she's well aware that Jabhat Al-Nusra militants won't treat a female fighter lightly if she's taken prisoner.
"The first day when she joined our armed forces her main target was to fight to the last drop of her blood. She was determined to never be captured or be a weakness among us. She decided to be a martyr before she was captured," Colonel Iyad stressed.
Rose recalled that the enemies were shouting at her: "Abu Jaffer we are coming for you, we won't slaughter you, we have other plans for you."
According to the woman, she wasn't afraid of the jihadists and replied, "do your very best."
"As for my motivation what brought me here it's the homeland, love of the homeland, love of the family, love of the people, love of friends, love of peace, love of the secure life we used to live," Rose told RT.
READ MORE: Syrian truce holding, UN chief says – as rebels threaten withdrawal
The battle in the Old City of Aleppo is critical as the government troops fear that if anti-government militants manage to take full control of the area they would destroy what remains of the ancient landmark.