Spain's 'Pussy Riot'? Madrid Councilor Rita Maestre faces year in prison for Catholic Church protest
Published time: 19 Feb, 2016 15:21
Edited time: 19 Feb, 2016 17:34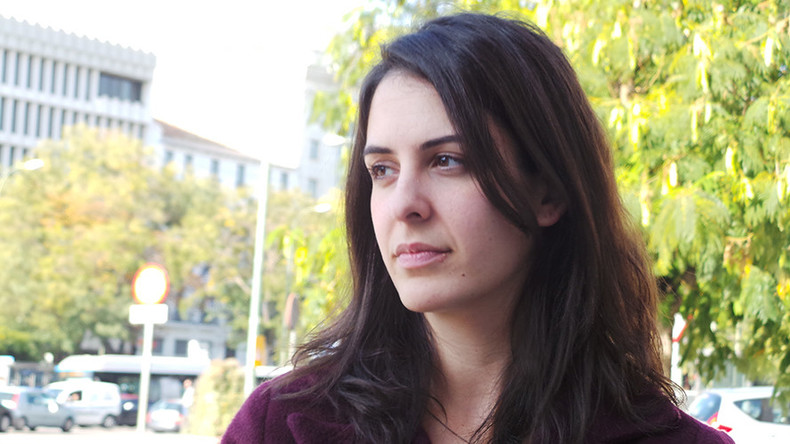 A Spanish councilwoman has gone on trial for an alleged crime against freedom of conscience and religious feelings during a university protest five years ago in which she exposed her torso.
Spokesperson for Madrid City Council, Rita Maestre, is facing one year in prison for the alleged offense during a protest against the "intolerable presence" of a chapel on the University of Madrid campus.
The highly-conservative Christian law firm Thomas More Law Center brought the first legal complaints against Maestre over the protest, the Huffington Post's Spanish edition reports.
The first minute of this Spanish report shows scenes from the chapel protest:
In March of 2011, a group of 70 women entered the university chapel as part of their protest against the presence of religious institutions on university grounds.
One of two parishioners praying at the chapel at the time of the protest said the women circled the altar and read out statements before several lifted their tops to expose their bras and chanted "offensive" slogans, El Pais reports.
The chapel priest present at the time, Rafael Hernando, said the councilor seemed to act "as if the leader" of the group, according to 20minutos.es website.
Speaking at the opening of her trial Thursday, Maestre said the group was only present in the chapel for about five minutes and that no ceremony was being performed at the time of the protest.
Maestre, who studied political science and sociology at the university, said that "the goal was not to offend anyone" in a "peaceful and legitimate protest" against the Catholic Church as an institution.
She added that "a bare torso is not an offensive gesture."
The case has received wide coverage in the Spanish media and strong support has been shown for Maestre online, with some calling the trial a "witch hunt."
Translation: Defend separation of Church and State, in the 16th century [it] was a bonfire. In the 21st [it] is [a] trial. I support Rita Maestre
Translation: Here, awaiting the trial to @Rita_Maestre
Translation: 'Don't pray at my school and I won't think at your church'. All religions outside of schools.
Pablo Iglesias, leader of Spain's left-wing Podemos party, has labeled the councilor an "example" to be followed in order to "make government more progressive in Spain" and "defend secularism, religious freedom and the rights of women", according to 20minutos.es.
Translation: Very excited for all the support that I am getting. Thank you, of heart. We continue!
Maestre's case has drawn comparisons to similar religious protests carried out by Pussy Riot, the Russian 'feminist' punk rock protest group, known for performing and protesting against the Russian Orthodox Church at religious venues.
Two members of Pussy Riot served 21 months in prison for "hooliganism motivated by religious hatred," stemming from a 2012 protest performance in Moscow's Cathedral of Christ the Savior.