Russian Patriarch Kirill meets Cuba's Fidel Castro in Havana (VIDEO)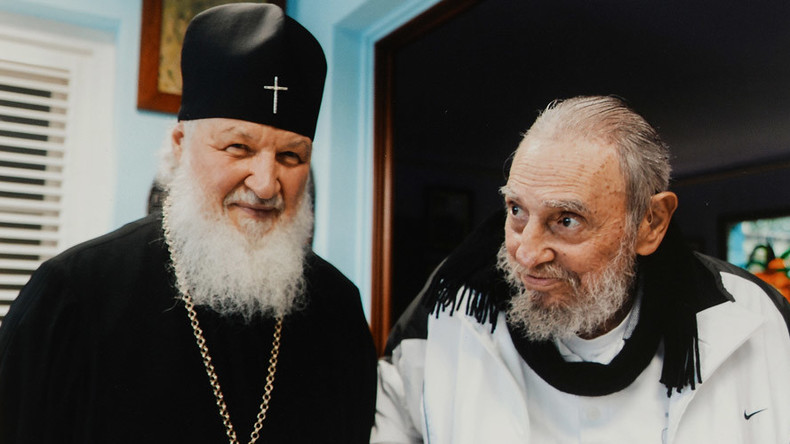 Head of the Russian Orthodox Church Patriarch Kirill paid a courtesy visit to former Cuban leader Fidel Castro to discuss the current state of affairs in the world.
The two met at Castro's home on Saturday and talked fighting poverty, discrimination and peace-making efforts, local media reported.
Castro commented on "the good state of relations between Russia and Cuba, based on deep feelings and ties of friendship" and the whole meeting took place "in a relaxed atmosphere of respect and agreement," according to The Havana Times.
The leader of the Cuban revolution praised the Patriarch's contribution to strengthening ties between Russia and Cuba and spreading values shared by both nations.
The Russian religious leader, in turn, thanked Castro for approving the construction of an Orthodox church when he was in office. The church has been used by the Cuban Orthodox community for many years.
Castro also praised Patriarch Kirill and Pope Francis' meeting that was held the day before, on Friday. The two religious leaders signed a declaration calling on the world community to unite against terrorism.
Patriarch Kirill was on an visit to Latin America that started on February 11 and included Paraguay and Brazil in addition to Cuba.
The patriarch is curretly in the Antarctic where he will say mass at a scientific research station on the Island of Waterloo.
"This is an historic event in the life of Russian Orthodoxy, a proof that the Russian Orthodox Church exercises its office on all continents. There the Patriarch will pray for the entire world," Volkov said, according to RIA Novosti.
The Russian patriarch and Castro previously met during Kirill's visits to Cuba in 1995, 2004 and 2008.
This is the first public appearance of Fidel Castro since September 2015 when he met Pope Francis at Havana's Jose Marti International Airport during the pontiff's visit to Cuba.