'Did not see that coming': Driver careers inches from tornado, claims not to have noticed it (VIDEO)
Published time: 17 Feb, 2016 10:31
Edited time: 17 Feb, 2016 11:17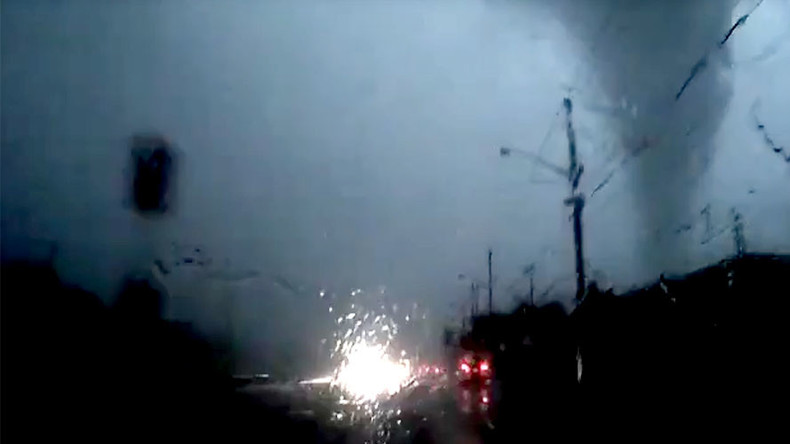 This US driver clearly has the luck of the devil. Dashcam footage shows how he nearly drove through a twister in South Florida. But the man barely noticed, loudly swearing at other drivers instead.
The driver, Anthony Ciarrocchi, published the dashcam video on his Facebook and YouTube pages on Tuesday. He claimed he hadn't noticed the tornado approaching as he was focused on the road.
"I took off in the opposite direction and [did] not sit there to figure out what [was] happening," he wrote.

Social media users are dubious that it was possible for Ciarrocchi not to notice the twister.

"The tornado was clearly visible and you practically drove right into it. It scares me to have drivers like you on the road, who are apparently incapable of using your peripheral vision," Adam Lucio wrote.

Many were impressed by the footage, but not by the driver's behavior. In fact many said he was "not very bright."

"You, Anthony almost lost your life and if you are a 'Storm chaser', you're not a very smart one," Southeast Louisiana Storm Spotters commented on the video.

Some even took Ciarrocchi's behavior on the road as a personal offense.
"Please do the rest of us mustang owners a favor and don't be such a dumbass when driving, it gives the rest of us mustang owners bad reps," user S197StangGT noted.

READ MORE: Twister mystery: Miami wakes to tornado warning and wind damage (VIDEO)

Others chose a more ironical approach.
"Get out of my way hurricane… I need my double supreme latte with extra cream and sprinkles…and I'm late for a meeting with my corporate," one user joked.