Raise a complaint: Odessa Governor Saakashvili vows to punish 'those' who hiked his salary
Published time: 17 Feb, 2016 08:35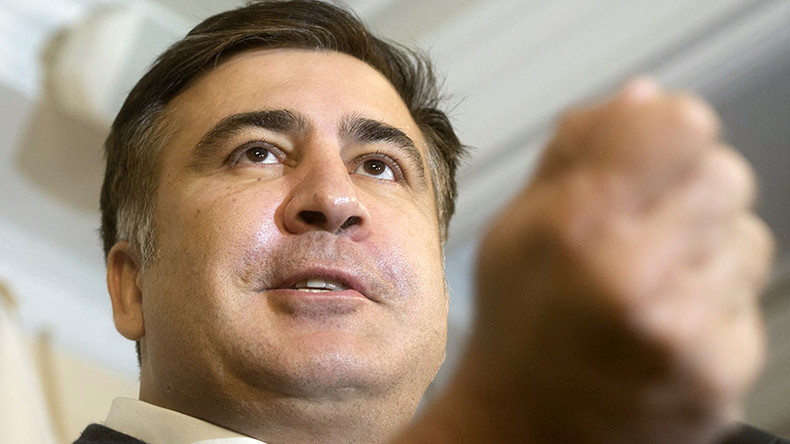 Georgian ex-President Mikhail Saakashvili, currently governor of Ukraine's Odessa Region, has promised to punish "those" who raised his salary "without his knowledge." The politician complained he was "unpleasantly surprised" to find his pay boosted.
"I am deeply convinced that officials in Ukraine should get a decent payment for their work, but neither I nor my team is here for the money, but for the sake of our country's future," Saakashvili, who was granted Ukrainian citizenship in 2015, wrote on Facebook.
"This decision was taken without my knowledge. I would have never allowed myself to raise my own salary while ordinary employees continue to receive a pittance. I rescind this decision, and will definitely punish the guilty parties," he stated.
The administrative order about the salary hikes meanwhile appears to have been signed by the Odessa Region's governor himself, Dumskaya.net, a website for Odessa news, reported. Saakashvili's claims that he was "unpleasantly surprised" by his salary hike therefore mean that he either signs documents without looking, or assigns his subordinates, who have a facsimile of his signature, to do his job. Dumskaya.net suggests that a third option is that Saakashvili is "simply lying."

Dumskaya reported on Tuesday that Saakashvili approved the new staffing schedule along with the new salaries for employees of the Odessa Regional State Administration. According to the document, Saakashvili will be paid 7,055 Ukrainian hryvnia ($261) a month, instead of 5,644 hryvnia ($209.) Other employees have received much smaller pay increases.
In December, the Odessa governor's team was accused of embezzlement of funds of the charity for the rehabilitation of military personnel fighting rebels in the east of Ukraine. According to Dmitry Golubov, an MP from the Poroshenko Bloc, some 111,000 hryvnia ($4,141) from the charity fund was spent on a reception at Hotel Bristol, while 3 million hryvnia ($111,940) went towards Saakashvili's PR on the Inter TV channel. Another 4 million hryvnia ($149,254) was to buy cars for the motorcade.
Saakashvili, who was appointed Odessa governor by President Petro Poroshenko, is wanted in Georgia on charges of embezzlement, abuse of power and politically-motivated attacks.
Earlier this month International Monetary Fund (IMF) Chief Christine Lagarde said Ukraine has not achieved significant progress in the fight against corruption, so financial support to the country could be suspended.
In mid-December, Saakashvili had a glass of water thrown in his face by Ukrainian Interior Minister Arsen Avakov during an angry slanging match over who is more corrupt. The water brawl between Saakashvili and Avakov occurred right in front of Poroshenko, who was present at a session of the Reform Council.