'Pro-Russian' Polish MEP scares Ukraine team away from Kiev-EU summit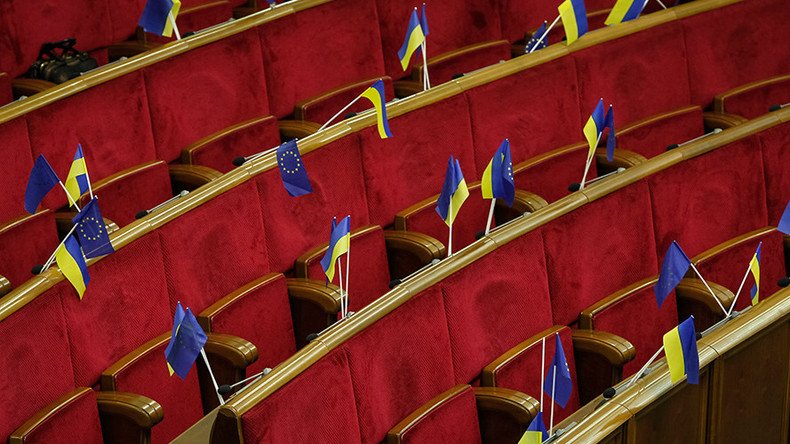 Members of the Ukrainian delegation to 'Europe-Ukraine' economic forum staged a walk-out over a European MP declared persona non grata in Ukraine taking part in the conference, as well as a Russian participant delivering speech at the event.
The head of the Ukrainian delegation and deputy Rada speaker, Oksana Syroed, told Ukrinform media outlet that she personally walked out from a panel she was attending when a Russian participant from Moscow State University of Foreign Affairs (MGIMO) joined the discussion as her opponent.
Two other Ukrainian MPs, Yegor Sobolev and Tatyana Chernovol, boycotted a debating panel because an MEP from Poland, Janusz Korwin-Mikke, was among the participants
Last year Korwin-Mikke paid a visit to Crimea, which reunited with Russia in 2014 following a referendum to leave Ukraine. Following that journey the Polish MEP was declared persona non grata in Ukraine.
Syroed said that if she hadn't been leaving Poland on Sunday, she would have done the same again if "notorious provocateurs" took part in the discussions of the IX Europe-Ukraine inter-parliamentary assembly.
She said she had no questions for the "pro-Russian provocateurs," yet she would like to ask some to the organizers of the summit.
"Provocateurs have been invited to the summit, a lot of them, in practically every panel there is one of them. I believe this assembly is meaningless since we all know Russia's position, but how it could help the dialogue [between Europe and Ukraine]?" Syroed said, adding that the Russian position was being presented at the summit to "turn it into destructive buffoonery."
Department Chairman at MGIMO Valery Solovey presented at the forum an opinion that Ukraine has no conception for the rebellious eastern Donbass region and that the only aim of the Crimea blockade staged by Ukrainian authorities is to punish the residents of the peninsula for switching countries.
On Friday another Ukrainian delegation staged a walk-out at the session of Black Sea Economic Cooperation organization (BSEC) held in Istanbul in protest over Russia taking the chair of that organization, reported Interfax-Ukraine.
LISTEN MORE:
You can share this story on social media: