'Party ambience'? Protesters seek to prevent WWII concentration camp becoming luxury spa res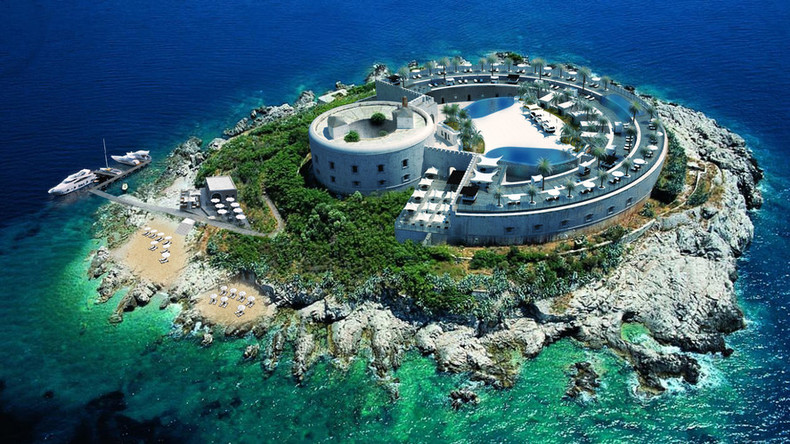 A former concentration camp on a Montenegrin island is finally set to be turned into a luxury resort and spa. The website of the tourist spot doesn't mention the inglorious past of the place, though.
"The project will be sympathetic to the local architecture and will completely preserve the historical value of the island, will also be completely eco-friendly by using renewable energy sources, and energy efficient materials," a promotion for the future Lustica Bay Resort reads.
Mamula Fort has a gloomy history: Benito Mussolini's Fascist forces used it during the Italian occupation, imprisoning Serbs from Croatia, Montenegro and Bosnia and Herzegovina. Over 2,000 inmates were kept at the notorious location that dates back to the 19th century Austro-Hungarian Empire. Many of the prisoners were murdered or starved to death.
The island is currently uninhabited, but can be visited by tourists.
The resort and spa project was approved by Montenegrin authorities after years of opposition, according to Forbes.
The location developer, Switzerland-based Orascom, said it offered €1.5 per square meter of the island for the 49 year-lease, with a separate deal for the waterfront.
The investment to be made into the venture is estimated at €15 million, and the "high-end resort" is set to include swimming pool, restaurant, open-air dance floor, beach club, watersports center, and boasts a "party ambience."
Salt&Water, the architecture firm responsible for the design, said that the fortress' exterior would be preserved as one of the "most impressive landmarks of Montenegro," The Independent reported.
Olivera Doklestic, whose father, uncle and grandfather were imprisoned at Mamula, is among those prisoners' descendants campaigning against the development.
"The history of the island and its fortress must be at the center of its adaptation. A luxury resort is not an adequate solution," she told the Balkan Insight website.
Among the prominent supporters of the protesters is former UN Secretary-General Boutros Boutros-Ghali, who urged local authorities to give up the plans to build the resort.
"We feel called upon to propose that Fort Mamula, originally built for war purposes and mostly used as a prison for internment, torture and executions during the two World Wars, be transformed into a facility and institution of peace and international cooperation," Boutros-Ghali wrote in an open letter published in May 2015.
"Fort Mamula should become an international landmark that Montenegro and its people would be proud of, one that would be an appropriate monument," the letter added.
You can share this story on social media: