Misspelled Charlie Hebdo plaque draws social media anger against Hollande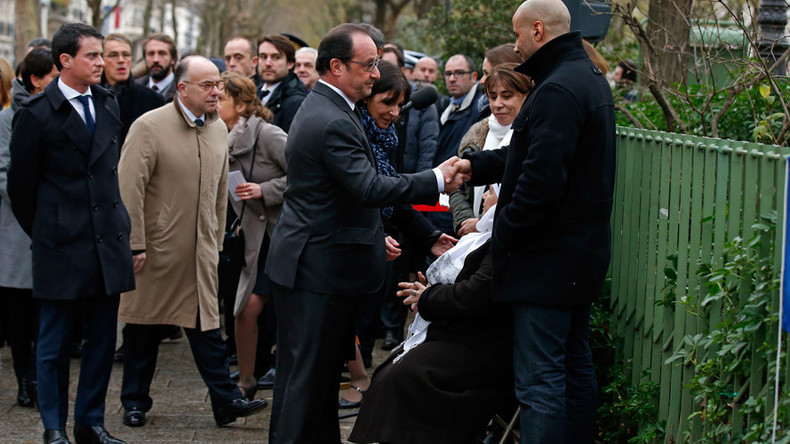 Social media users have already dubbed the spelling mistake in a commemoration plaque to remember the victims of the attack on Charlie Hebdo as a sign of amateurism on the French president's part.
Tuesday, President Francois Hollande and the mayor of Paris, Anne Hidalgo, unveiled a plaque in memory of those who died one year ago when the Kouachi brothers attacked the office of the Charlie Hebdo satirical magazine, killing 12.
However, internet users quickly spotted a spelling mistake in one of the names. Artist George Wolinski's name was misspelled as "Wolinsky".
"A spelling mistake in the name Wolinski in the commemorative plaque... #amateurisme from HoLande"
A cartoonist since 1958, Georges Wolinski was killed along with seven of his colleagues on January 7, 2015.
READ MORE Charlie Hebdo publishes special edition 1 year after deadly attacks
The plaque was installed near the newspaper's headquarters, where the attack took place. It has now been covered up until the error is corrected.
Two more plaques were installed on Tuesday. One was placed nearby, reading: "Police officer, Ahmed Merabet, murdered in this place on January 7, 2015 – a victim of terrorism in the performance of his duty."
Another was installed near the kosher shop in Porte de Vincennes, where three people were killed two days after the attack on the satirical magazine.
Another plaque will be installed in Montrouge on Saturday and there will be a planned gathering on Place de la Republique - a tribute to remember the victims of the January 2015 terror attacks.
You can share this story on social media: