Angry biker kicks over jaywalker in China (VIDEO)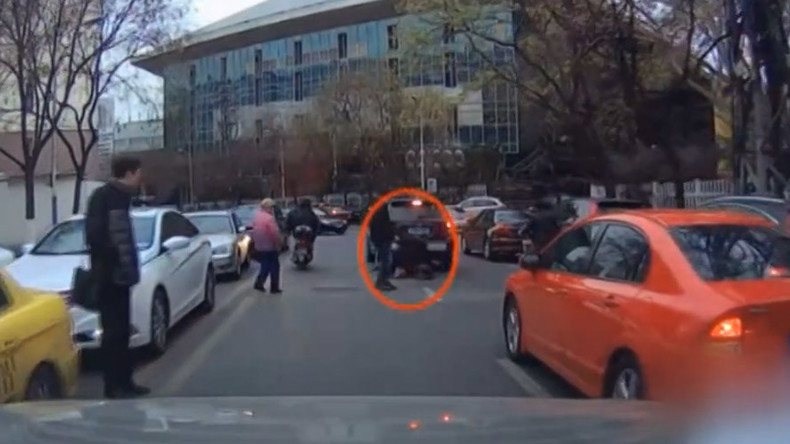 A motorist's standard response to someone jaywalking through traffic might be a honk of the horn or a waving of the first. However, one biker in China took it to the next level by kicking a pedestrian onto the ground.
In dashcam footage captured by a motorist in the city of Nanjing in China's eastern Jiangsu province, traffic is seen traveling in both directions on a busy street, with a motorcyclist approaching a group of pedestrians jaywalking.
READ MORE: Old woman brutally arrested, thrown on ground after skipping red light in Croatia (VIDEO)
As the biker passed by one of the pedestrians, he decides that it was a good time to teach one of them a lesson about the consequences of jaywalking. Kicking the pedestrian from behind, she can be seen falling into a passing SUV while the motorcyclist drives off.
The unnamed victim was a woman who had been with her husband when the incident occurred, Shanghaiist.com reported. In a longer version of the incident uploaded to Chinese social network Miaopai by China Central Television, the husband can be seen banging on the SUV and confronting the driver following his wife's fall, after assuming it was he who knocked over his wife.
You can share this story on social media: