18 children wounded in a suicide attack near school in Afghan capital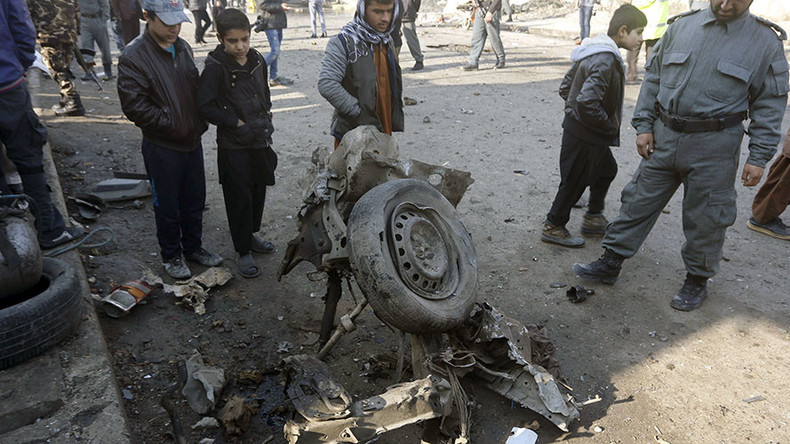 Eighteen children have been injured and one person killed in a suicide car bomb attack on a road near a religious school in Kabul. Taliban has claimed responsibility. The total of 33 people were injured in the blast.
According to a Taliban statement, the attack targeted a foreign military convoy – specifically a minibus carrying Americans and Europeans from a nearby military base to the airport.
Despite Taliban claims that "several invading forces were killed and wounded," a spokesman for NATO's Resolute Support mission in Kabul said none of its people had been affected by the incident, as reported by Reuters.
The incident took place in a civilian area with no military personnel nearby, said Kabul police chief Abdul Rahman Rahimi. Eighteen of the 33 injured were children who were studying in a local madrassa. Another four were women, AFP reports.
"Enemies of humanity detonated a suicide car bomb in front of a madrassa where children were learning the Koran and Islamic studies. It shows that they are enemies of mosques, God and the Koran," Rahimi said commenting on the incident, as reported by Reuters.
The attack comes a day after Pakistani army chief General Raheel Sharif visited Kabul for negotiations aimed at preparing the ground for a renewal of peace talks with Taliban.
"Both sides agreed that the first round of dialogue between Afghanistan, Pakistan, US and China will be held in January to lay out a comprehensive roadmap for peace," the Afghan presidential palace said in a statement, as quoted by AFP.
The first round of peace talks with the Taliban started in Pakistan in July, but negotiations reached deadlock as the militant group belatedly confirmed the death of its long-time leader Mullah Omar.
The latest incident is just the last in a series of terror attacks committed by the Taliban recently. On December 11, the insurgents assaulted the Spanish embassy guesthouse in the Afghan capital. The militants also killed six US soldiers in a suicide bomb attack on the Bagram air base.
The Taliban has seized part of Afghan's southeastern Helmand province and heavy clashes with government forces have already been taking place there for several weeks.
British troops were redeployed to the province a year after NATO forces formally ended their combat operations in Afghanistan after the militants took control of the town of Sangin.
The Taliban are on the offensive in several parts of Afghanistan. In October, they seized two districts in Badakhshan Province and even held the large northern Afghan city of Kunduz for several days in late September before government forces managed to retake it with heavy air support from the US.