Passenger detained over Air France fake bomb alarm is 'ex-cop' - reports
French authorities have detained a passenger from the Air France flight from Mauritius to Paris which made an emergency landing on Sunday due to a bomb threat, which later turned out to be false. Reports claim the suspect is a retired police officer.
Read more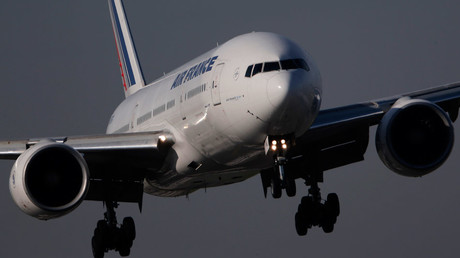 The arrest took place on Monday, the prosecutor's office in the Paris suburb of Bobigny said, without identifying the suspect.
Information about the arrest, as well as several other possible arrests, emerged in the French press. AFP reported that police detained a 58-year-old retired police officer over the fake bomb allegations. Radio Europe 1 said the man was allegedly serving in the town of Saint-Pierre in Reunion, an insular French region in the Indian Ocean.
According to the crew, the man repeatedly attended the toilet during the flight and is believed to have put the fake bomb there, a police source told AFP.
He was arrested with a woman who was reportedly his wife or girlfriend upon his arrival at Charles de Gaulle Airport on Monday morning. The woman was later freed after questioning, Europe 1 added.
Bobigny prosecutors also confirmed to AFP they are investigating "an obstruction of traffic in aircraft and endangering the lives of others."
The Boeing 777 Air France flight 463 carrying 459 passengers and 14 crew made an emergency landing on Sunday after reports of a suspected bomb in the restroom. The plane was flying to Paris' Charles de Gaulle Airport when it was forced to land at Moi International Airport in the Kenyan city of Mombasa.
After a thorough investigation the object turned out to be a dummy bomb.
"All the information available to us at the moment indicates that the object was not capable of creating an explosion or damaging a plane, but was rather a mixture of cardboard, sheets of paper and a timer," Air France CEO Frederic Gagey said. "It was a false alarm."