Jihadist feuds: ISIS boasts blowing up captives of rival Al-Nusra Front (GRAPHIC)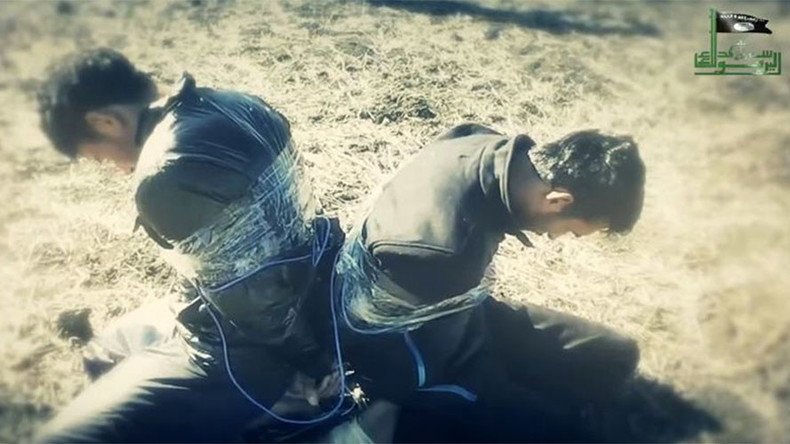 Gruesome images have been allegedly released by an Islamic State affiliate in Syria, showing terrorists using explosives to kill prisoners believed to belong to Al-Nusra Front, which is Al-Qaeda's arm in Syria.
The captives appear to be tied together with explosives and are subsequently doused in gasoline. A loud bang can then be heard, creating a large explosion, tweets from the Terror Monitor organization show.
The brutal killing was allegedly carried out by Shuhada al-Yarmouk, who operate in the south of Syria and are affiliated with Islamic State (IS, formerly ISIS/ISIL).
Despite both IS and Al-Nusra opposing Western ideals, the two terrorist groups are at war with each other. The head of Al-Qaeda, Ayman al-Zawahiri, has called IS and its leader "illegitimate." Some members of Al-Qaeda have described methods used by IS as barbaric.
While "no one" can deny the military "strength and prowess" of IS, "the crimes it has committed against Muslims cannot simply be overlooked or forgotten with time," said American citizen, Adam Yahiye Gadahn (born Adam Pearlman) in Al-Qaeda's online magazine in June, explaining "there is no statute of limitations" in Islam.

IS militants have frequently staged mass executions of their enemies and the civilian population, in which dozens and even hundreds of prisoners have been shot in the head.

Later, individual and mass beheadings were staged theatrically for IS propaganda photos and videos posted online. The terrorists have also used other barbaric methods of execution, including decapitation with explosives, drownings, and burning the victim alive in a cage.

They have also used RPG rocket launchers to execute prisoners tied to poles and have killed several people trapped in a car with a single rocket-propelled grenade.
READ MORE: Flesh-eating skin disease grips ISIS-controlled areas in Syria (GRAPHIC)
IS forces in Afghanistan were also reportedly filmed forcing 10 captives to kneel on landmines in August.
Reports on the latest IS-Al-Nusra standoff appeared days before the UN Security Council unanimously adopted a roadmap resolution calling for an immediate ceasefire in Syria. Notably, the only two groups excluded from the ceasefire plan and defined as terrorist were IS and Al-Nusra Front.

The symbolic short list of "bad jihadists" raised eyebrows, with Russian Foreign Minister Sergey Lavrov calling it "contradictory." However, according to Lavrov, the criteria for labeling Syrian militant groups as terrorists is going to be discussed further.
READ MORE: Syria unity government 'possible' within 6 months, political transition within 1.5yrs – Lavrov
You can share this story on social media: