Russian sanctions to be reviewed in coming months – Italy PM Renzi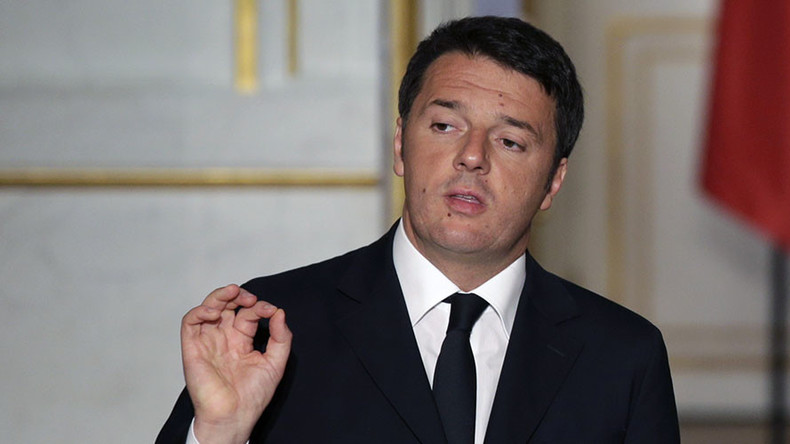 Italian Prime Minister Matteo Renzi has said that Russian sanctions could be reviewed in the next few months.
"It's clear that we have the same position as the entire international Western community... but I think that this package of sanctions will be reviewed, not in the next few hours but in coming months," Renzi said in an interview with Italian radio, Reuters reports.
The Italian word that Renzi used for 'reviewed', can also mean 'revised' or 'overhauled'.
"Finally our position that we must renew discussions with Russia has prevailed. America and Russia are now finally talking again," he added.
The extension of anti-Russia sanctions would serve as proof of the European Union's shortsightedness and its "political bias," Russian Deputy Foreign Minister Aleksey Meshkov said.
"This shows that they are starting to understand how pointless the sanctions confrontation is. Sooner or later, this understanding will prevail," he added.
Earlier this month, Italy delayed an EU decision to automatically extend economic sanctions against Russia, demanding that the measure is discussed further within the bloc.
READ MORE: Italy demands review of EU sanctions extension against Russia
"We'll ask our allies how they (the sanctions) are going ... so that we don't just go ahead automatically," Renzi said on Tuesday. "We're not there to wave things through."
The EU is expected to agree on a six-month extension of its economic sanctions against Russia on Friday. Sanctions were first imposed in July 2014, and covered mostly the energy, banking and defense sectors.
The sanctions expire at the end of January.
About a week ago, a French lawmaker presented a draft resolution to the country's parliament calling for an end to anti-Russian sanctions, saying they are "totally ineffective" and "mostly illegal," according to the document.
READ MORE: Draft resolution against anti-Russia sanctions introduced to French parliament
The author is Republicans party MP and former transport minister Thierry Mariani. He stated in the resolution that the sanctions are harmful for French-Russian relations in general, as well as for France's economy.
Chancellor Angela Merkel, however, has stated that Germany will "support the extension of sanctions, as they are still linked with the Minsk peace agreements on Ukraine."