3 killed, over 100 injured as 2 trains collide head on in India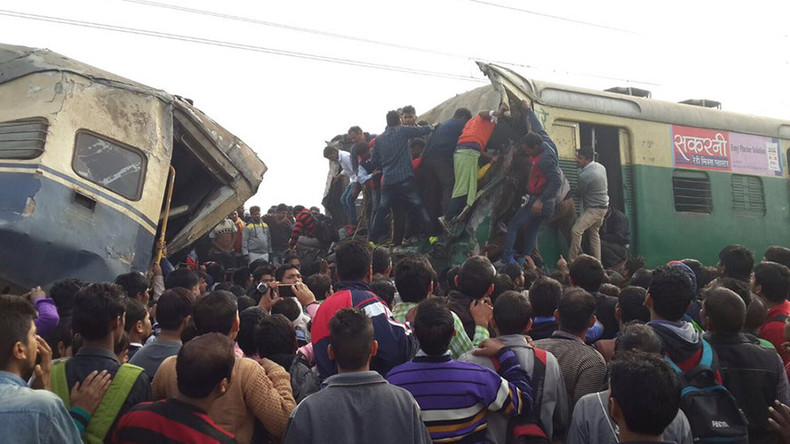 At least three people were killed and over 100 injured in Haryana's Palwal district in northern India after two trains collided head on. The driver of one train is reported dead, while the other one is said to be seriously injured.
The accident took place at around 8:25am on Tuesday morning between Palwal and Asaoti Railway Station, the Haryana Ab Tak daily reported.
It's believed that dense fog could be the reason for the collision, local media reports. Trains running through the area have been delayed.
READ MORE: Train derails while navigating bridge in India, multiple injuries (VIDEO)
Prayers for all those injured in the train accident at #Palwal in Haryana! Most unfortunate! Sigh!

— Deepa Singh (@asingh10_deepa) 8 декабря 2015
Cpro Northern Railway confirms death of EMU driver. Guards of both trains injured. Several injured. #haryana Lokmanya Express accident

— Binoo Nair (@NairBinoo) 8 декабря 2015
India has one of the world's largest railway networks, with over 12,000 trains carrying more than 23 million passengers per day. The system is poorly maintained, however, and accidents are common.
Two express trains derailed and plunged into a river in Madhya Pradesh (India's sixth-largest state by population) in early August after flood water weakened the tracks, killing 24 people. Using gas cutters, divers managed to pull out trapped passengers and 300 were rescued. Dozens were rushed to hospital.
You can share this story on social media: