Indian plane tips over after herd of wild boars invades airport runway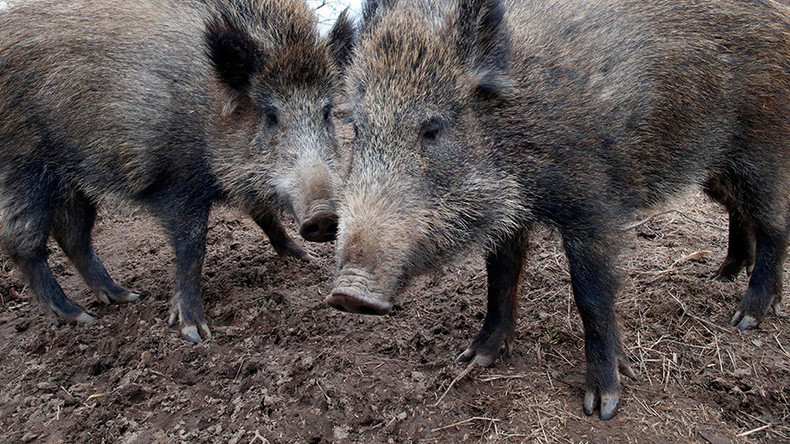 Passengers on India's SpiceJet flight got a huge scare, when their plane landed at Jabalpur airport to suddenly swerve to the side - as a herd of at least 30 wild boars ran out for a stroll across the runway.
The incident, reported by the Hindustan Times, took place at 7:45 p.m. local time and ended safely, with the aircraft ending several meters away from the runway, tipping to the side. A major crash was narrowly averted.
There were 49 passengers and four crew aboard the Q400 aircraft.
"The pilot lost control of the aircraft causing the aircraft to swing off the runway... None of the passengers or crew suffered injuries," a SpiceJet official told the daily. The same did not hold true for the boars, seven of whom ended up dead.
The plane took damage to its left landing gear and undercarriage.
"The skillful and experienced hands of the Captain helped to avert a major disaster by diverting the aircraft towards the left of the runway to moderate the impact of the event," they added. The pilot had to apply emergency brakes, which led to the tipping of the aircraft.
"No pilot is trained to land on runways infested with animals and Jabalpur airport has a chronic history," an unnamed official also told the Hindustan Times.
The incident took place just as India's aviation authorities were in the midst of an audit on all the country's airports. The Directorate General of Civil Aviation (DGCA) has arranged for surveillance of 20 of India's airports, due to increased incidence of animal intrusions there.
Three months ago in September, President Pranab Mukhergee's aircraft ended up in a similar pickle, as a herd of pigs marched on the runway towards the terminal building at Nagpur. That same airport 10 days later witnessed a group of rabbits that nearly interfered with a commercial aircraft as it was landing.