Green protesters dragged out of Aussie parliament (PHOTOS)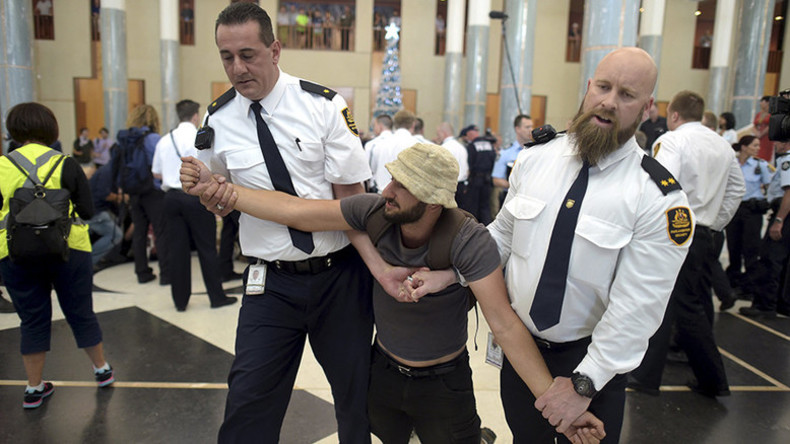 Over a hundred environmental protesters staged a sit-in in the Australian Parliament House as the country's new prime minister returned from a climate change conference in Paris. Guards dragged out the activists when they refused to leave.
Between 100 and 200 people participated in the protest on Wednesday lunchtime in the marble foyer of the house. Among them were environmentalists and indigenous traditional owners.
The activists were calling for more action to combat climate change. Greens leader Richard Di Natale and a number of MPs joined the activists.
"People here in parliament today have said we're running out of time," he told AAP news agency.
"People in Australia feel so strongly about this and want the parliament to take the kind of action on climate change the science demands."
The peaceful protest took a dramatic turn about 30 minutes after it started, when guards demanded that the activists leave. They refused and were dragged one by one by security staff and police officers as the protesters chanted: "We will not be moved!" and "People before polluters!"
The protest came as Prime Minister Malcolm Turnbull returned on Wednesday morning from an ongoing UN climate change conference in Paris, where world leaders set a target for a cut in global greenhouse emissions.