Give me a leg-up! Prosthetic limbs give dog new lease of life (VIDEO)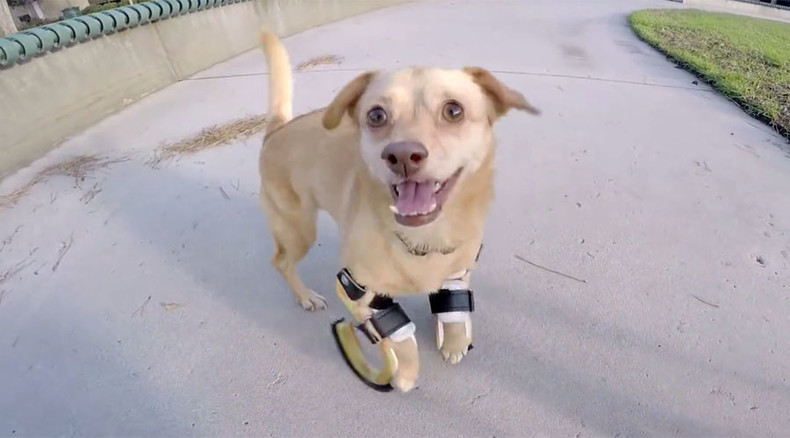 Daisy, an abandoned Los Angeles pooch with a severe disability, has been given the chance to run around like a regular dog thanks to her fantastic new prosthetic legs.
Judging by a video of the dog in action, utilizing her new front legs, she's so happy with the additions that she simply has to jump for joy.
Daisy, who was abandoned on the streets of LA when she was just two months old, has deformed elbows, a right shoulder, and front hips.
She was on course to be put down at a local dog shelter before an animal rescue group, A Home 4Ever Rescue, saved her and found a home for her with an LA-based couple, Sheena and Christian Maine.
The new owners initially provided Daisy with a wheelchair for her back legs, but were then given the option of the new prosthetic legs when an animal care center in Chantilly, Virginia, heard about the dog's condition and offered help. A mold was taken of Daisy's legs and in late October her new limbs arrived in the post.
The dog's owners write on the dog's website that the new prosthetic legs "are much more compact, allowing Daisy to walk faster without the legs hitting each other like before. The sole of her leggies were cut shorter and now have a hook shape to them. Also, the leggies both feel and look as if they are actually a part of her legs. I am so excited for what the future hold for Daisy with her new legs!"
Daisy seems sure to have many happy stick-chasing days ahead of her with her new-found mobility.