How Paris united against terror: Eiffel Tower as peace symbol, la Marseillaise, free shelters & taxi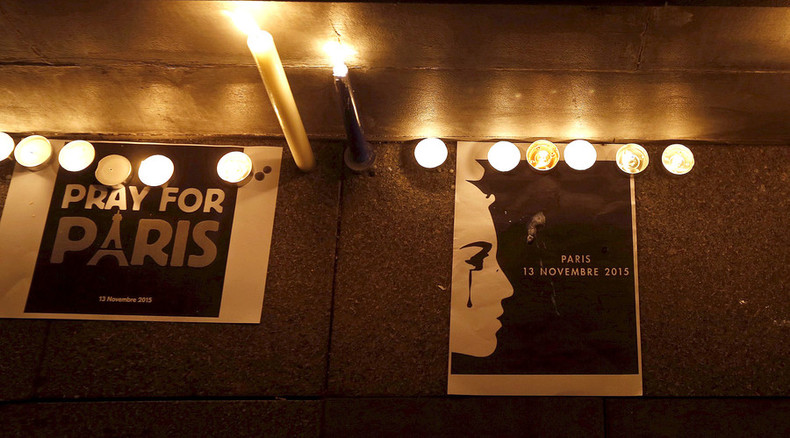 The city of love turned into the city of anguish after several attacks rocked central Paris on Friday night. At least 127 people died, and many more were injured. The tragedy sparked an unprecedented response, with thousands sending their prayers and condolences.
The unprecedented tragedy has shocked the world. People from around the globe sent their condolences and brought flowers to French embassies.
In solidarity against the violence, crowds of French football fans sang 'La Marseillaise', the French National Anthem, as they were evacuated from the Stade de France during a series of attacks that rocked Paris on November 13.
"Peace for Paris", an illustration by the French graphic designer Jean Jullien, has been widely shared on social media in the wake of the tragedy. The iconic Eiffel Tower has become a symbol of support for people worldwide, many unable to get to grips with what happened.
A hashtag #portesouvertes ("open doors") was created on Twitter, with Parisians offering a place to stay for people who were evacuated from the sites of the attacks. In the US, some used the hashtag #strandedinUS to offer shelter for those who were unable to return to France.
Friends and relatives took to social platforms in a desperate search for loved ones feared to have been at the sites of the attacks. Facebook has been praised for offering its "Safety Check" feature to allow users to mark themselves safe if they listed Paris as their location. This made it easier for others to find out quickly if everything was OK with their colleagues and friends.
With metro lines shut down and a state of emergency declared in the French capital, some people simply had no means of getting home. Paris Taxi drivers turned off their meters, evacuating people for free after numerous horrifying attacks rocked the capital on Friday night.