Hundreds of ecology activists protest US base relocation in Tokyo (VIDEO)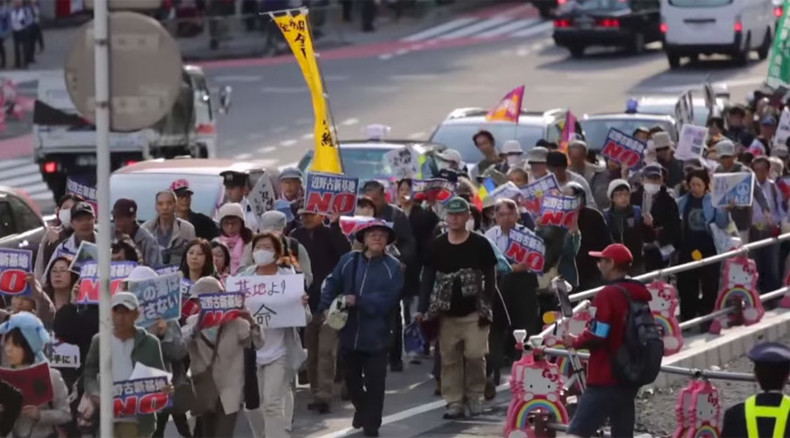 Hundreds of people marched in central Tokyo on Sunday to protest the relocation of a US military base from one area at of Japan's Okinawa main island to another.
The demonstrators are concerned that the reclamation of land required to move the base to an island in Henoko Bay would deliver irreversible harm to the ecology.
They displayed banners, reading 'no,' and carried inflatable and stuffed whales – the species which is likely to suffer the most because of the relocation.
US Marine Air Station Futenma raises safety fears at its current location due to it being surrounded by homes, schools and other civilian structures.
The Japanese authorities resumed land reclamation in Henoko Bay on Thursday, saying that the base should be moved to a less developed area as soon as possible.
The move went ahead despite heated protests from the locals, who tried to prevent access to the site and heckled the builders from their boats.
READ MORE: Japanese police drag away elderly protesters as work starts on controversial US airbase (VIDEO)
Okinawa hosts over half of the 50,000 American troops stationed in Japan, with the US bases occupying nearly a fifth of the territory of its main island.
However, the local authorities call the bases a burden to the economy as they employ only 1.4 percent of the workforce and account for less than 5 percent of business activity.