Blasts, gunfight rock hotel in Somali capital, killing at least 12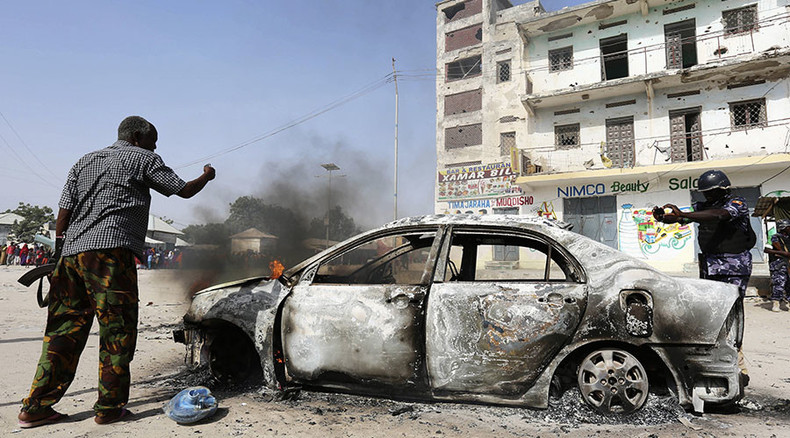 At least least 12 people have been killed in the Somali capital after a car bomb exploded at the entrance to a hotel in Mogadishu. The explosion was followed by a gunfight and another blast. Armed attackers have reportedly managed to enter the building.
"Attackers exploded a car bomb to gain entry before going inside... we have reports of 12 dead," policeman Abdulrahid Dahir told AFP.
Following the second blast, authorities engaged in a heavy gunfight with unknown attackers, according to reports.
"Fighters with machines guns are firing at us from the rooftop of the hotel," a police officer told Reuters, confirming that the attackers had infiltrated the building.
The African Union Mission in Somalia says that its forces, together with government troops, have brought events under "control" at the scene of the attack.
Rising smoke was seen following the second explosion which happened around 6:30am local time, some 90 minutes after the first alleged bomb was detonated.
According to Mogadishu News, the owner of Hotel Sahafi has been killed in the attack.
Medina Hospital staff told Somalia's Gooobjoog news that at least 13 people have been wounded at the hotel. The Sahafi Hotel is popular with local politicians and international agency staff.
A member of the Somali Federal Parliament, Abdulkadir Abdi Hashi, said via Twitter that he has managed to get hold of some of the MPs staying in the hotel, and they are "safe". He added that security forces are working to secure the site and free those still in the hotel.
Al-Qaeda linked Al-Shabaab insurgents who have previously carried out a number of attacks in Mogadishu, claimed responsibility for the assault.
Sheikh Abdiasis Abu Musab, al Shabaab's military operations spokesman, told Reuters their fighters took over the Sahafi hotel "where enemies were staying" and that the attack is "still going on."