Thrill-seeker balances over pool of hungry alligators as they watch his every move (VIDEO)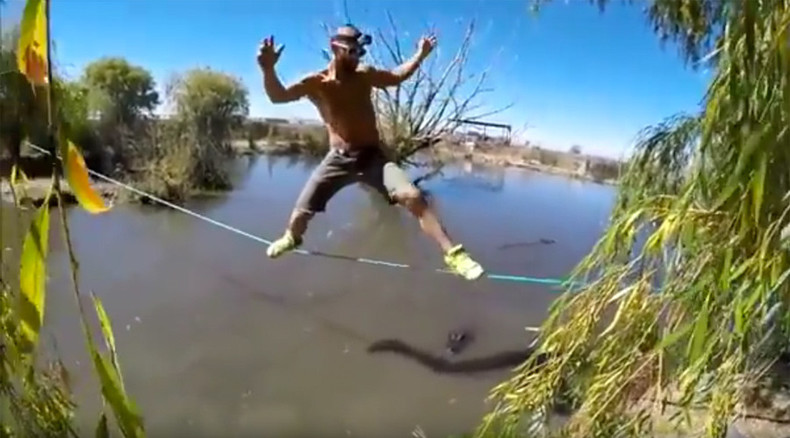 Professional slackliner Josh Beaudoin walked over a Colorado pond full of hungry alligators just itching for him to lose his balance.
The 33-year-old Alaskan started off carefully measuring his steps while a bunch of interested gators followed him closely just waiting for him to make an error.
Early into the stunt however Beaudoin recovered his confidence and went on to show off his skills.
At some point he can be seen balancing on one leg above an audience with one thing on their mind: "he's dinner".
To the dismay of the alligators, Beaudoin safely made it to land. The predators had to suffice with slabs of meat thrown at them by Josh's partner in crime.
He later took to the internet to describe what he felt at the time and also warn others from following in his steps.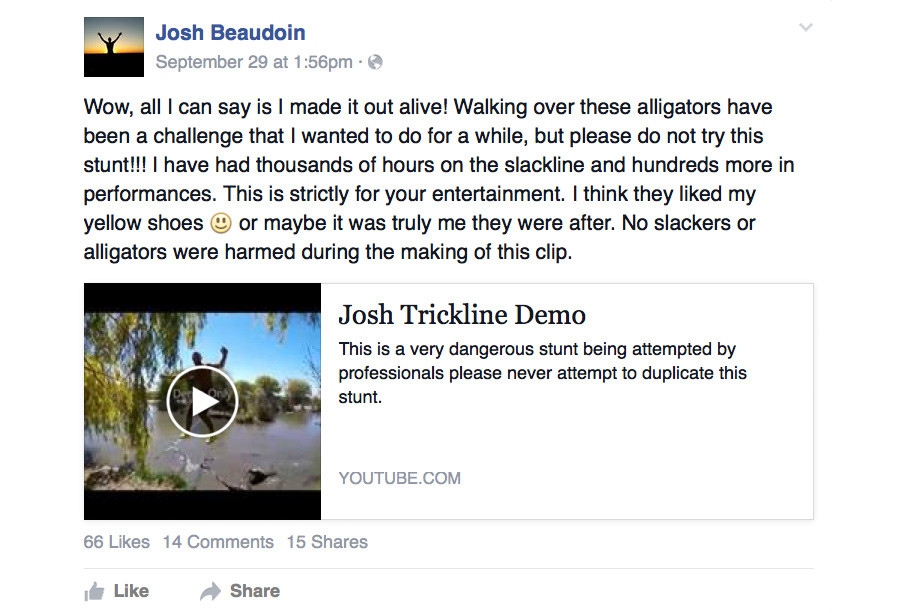 "Wow, all I can say is I made it out alive! Walking over these alligators have been a challenge that I wanted to do for a while, but please do not try this stunt!!! I have had thousands of hours on the slackline and hundreds more in performances. This is strictly for your entertainment." Beaudoin wrote on his Facebook page.
Although he admitted he probably wouldn't do it again, he called the experience unique.
"No slackers or alligators were harmed during the making of this clip."
We're guessing he would have had second thoughts, had he seen this terrifying video of a huge gator jumping out of the water a good couple of meters, balancing on its tail.
Slacklining is different from walking a tightrope: the slackline is flat and it's bouncier, like a long and narrow trampoline.
READ MORE See you later, alligator: Creepy footage shows what it's like to be eaten by a croc