Palestinian shot dead by police after stabbing Israeli soldier in attempt to seize his gun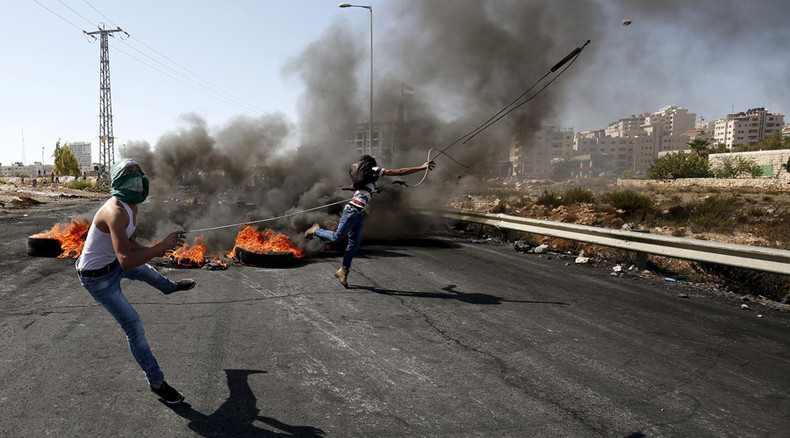 A Palestinian man attacked an Israeli soldier on a bus entering Jerusalem, stabbing him with a knife and attempting to snatch his gun. The man was fatally shot by police who arrived at the scene. They were aided by a passenger who was carrying nunchucks.
The incident took place on a 185 line bus in Jerusalem. The Palestinian man sat next to an Israeli Defense Forces (IDF) soldier. Shortly after boarding the bus, the attacker attempted to snatch the soldier's gun. After failing to do so, the Palestinian started strangling the soldier and then stabbed him with a knife, an Israel Police spokeswoman said, as cited by The Times of Israel.
Two passengers and police officers on the bus tried to stop the attacker, causing a ruckus. Further passengers urged the driver to stop the bus, so that they could disembark. When it came to a halt, more police managed to board.
The officers tried to arrest the Palestinian but one dropped his gun and the attacker managed to grab it. When one of his fellow officers realized, he shot the Palestinian.
One of the passengers claims to have helped police neutralize the Palestinian by hitting him with nunchucks. "I jumped onto the bus and helped them struggle with the terrorist. I took nunchucks out and hit him where I had to for them to be able to pry loose the weapon he held," he said as cited by Ynetnews.
An IDF soldier and one of the civilians were sent to Hadassah Hospital. The soldier is reportedly in light-to-moderate condition, while there is currently no information available about the condition of another man who was wounded is the incident.
Israeli police closed the entrance to Jerusalem after the attack.
The incident marked the fourth attack on Israelis by Palestinians in Jerusalem on Monday alone.
Earlier in the day, two Palestinian teenagers, 13 and 15, stabbed two Israelis including a 13-year-old boy in north-eastern Jerusalem's Pisgat Zeev neighborhood. Both victims were seriously wounded. One of the attackers was killed by police and another was left severely injured.
READ MORE: Dramatic footage shows Palestinian shot dead after stabbing 2 Israeli officers (GRAPHIC VIDEO)

A spokesman for Palestinian Authority President Mahmoud Abbas subsequently accused Israeli authorities on of "summarily executing" a Palestinian teenager.
According to Ynet news, Abbas spokesman Nabil Abu Rudeineh demanded that Israeli police arrest the security officer who fired at the teenager, warning that a further escalation in violence may result in a "loss of control" over regional stability.
The second attack took place outside national police headquarters near Ammunition Hill when a woman stabbed an officer who had approached her. The policeman shot her and she was taken to hospital with moderate wounds.
One more attack occurred near the Old City where 17-year-old Mustafa Khatieb tried to stab a police officer who was wearing a protective vest, which prevented him from being injured. The attacker was shot dead.
There has been a surge in violence from both sides since Israeli security forces announced a crackdown on Palestinians. Since the start of October, 23 Palestinians have been killed, while four Israelis have lost their lives.
Israeli-Palestinian tensions have been escalating recently. Over the weekend, events heated up after five Palestinians were shot dead by Israeli security forces at two separate locations – one in Jerusalem and one along the Gaza border fence with Israel. At the same time, four Israelis were injured in stabbing attacks.
LISTEN MORE: