'It really cracked!' Tourists flee after glass skywalk shatters underfoot in China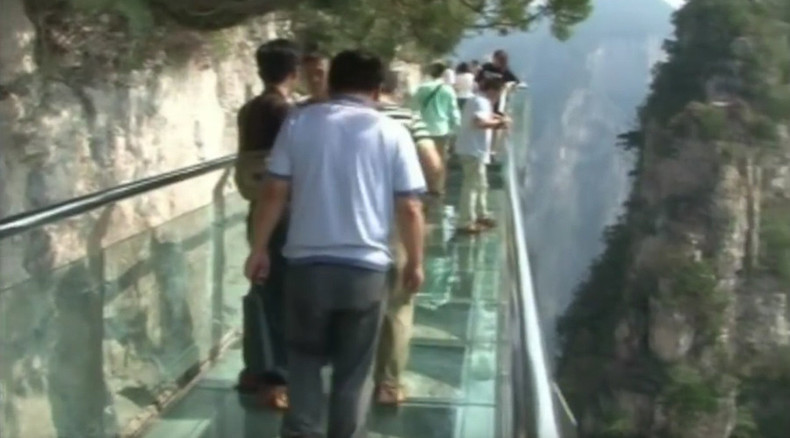 Tourists walking atop a newly built skywalk in China had their experience shattered after the glass cracked right beneath their feet. Visitors quickly fled from the structure, which is suspended over a canyon at more than 1,000 meters above sea level.
Photos posted online show the cracks in the glass flooring of the skywalk, which is located at Yuntaishan Scenic Park in China's Henan province.
Many wrote about Monday's experience online. One Weibo user, going by the name leedonghaeshuohyukjaenihaowodeai, said: "Just witnessed a historic moment – Yuntaishan's glass walkway is broken."
"As I was approaching the end of the passage, I heard a sudden loud 'bang.' My legs were shaken. I looked down and saw the pane underneath me had shattered...some people screamed. I yelled, 'It really cracked. It really cracked!' Then I ran pushing the people in front of me. I was terrified," the user added.
Another tourist, Lee Dong Hai, wrote on Weibo that she felt her foot shake a little, then looked down to find a crack beneath her feet.
The photos prompted many to blame inferior construction material used to build the structure, which was opened to the public just two weeks ago.
Park officials said the cracks were caused by "external force" from a sharp object, and said there was no danger to the safety of visitors.
"The passage's surface is made of custom-made three-layer tempered glass panes. The cracks only affect one layer of the pane and will not pose threat to safety," a statement said. It added that the park was closed immediately after the incident, and that the path will be shut until the broken pane is replaced.
Opened on September 20, the path spans 260 meters (853 feet), with a 68 meter (223 foot) glass-bottom section. It is suspended at 1,080 meters above sea level.