Catalonia head charged with of abuse of power over independence referendum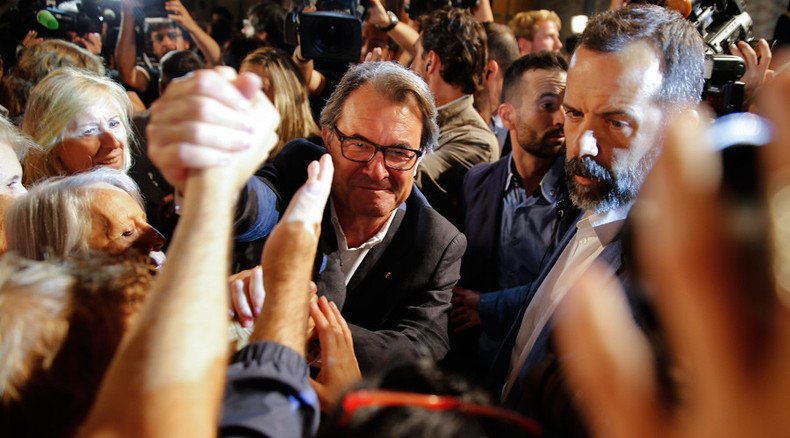 The head of the regional government in Catalonia has been indicted for unconstitutionally calling a referendum on independence from Spain last year. This comes just two days after his party and other secessionist forces won a regional election.
Recently, Artur Mas has promised his fellow Catalans that if pro-independence parties secured the majority in the regional parliament, independence from Spain would be a done deal. And so, on Sunday, the foundation of that promise was attained: absolute majority was secured, although, the parties only won 48 percent of the vote.
Despite the gains, Mas now has been summoned by Catalonia's Supreme Court (TSJC) for pushing through a non-binding referendum last November, even after Spain's Constitutional Court explicitly forbade him doing so.
He faces preliminary charges of disobedience, abuse of authority and usurping authority and will have to appear in court in October.
As it becomes more evident that Catalonia wants independence, Prime Minister Mariano Rajoy has once again repeated that he will not discuss "the unity of Spain." With a general election coming up in December, he has ruled out any possibility of a referendum on the issue.
Meanwhile, Rajoy's own People's Party is getting historically low numbers in the Catalan election – the lowest in 20 years. Experts believe this to be directly related to the continued blocking of Barcelona's independence referendum.
The Catalan Government said in a statement that it hasn't "done anything illegal," according to the Catalan News Agency. It further labeled the court's decision to indict Mas as "a democratic anomaly" and "a political judgment."
READ MORE: Madrid says it will not discuss Spain's unity after Catalan separatists claim victory
The left-wing leader Oriol Junqueras called Madrid's tactics "the best example" of why Catalonia must secede. "As long as we belong to the Spanish State, normal things such as asking the citizens' opinion will turn into lawsuits and summonses," he said in a radio interview.
Various Catalan institutions and departments joined in the criticism against Madrid, although some in the region, such as the Conservatives, are diametrically opposed to Mas, believing that Catalonia can't have a leader who is summoned for disobedience.
LISTEN MORE:
You can share this story on social media: