Kaboom! Twin chimneys of iconic Scottish Cockenzie Power Station go down in blast (VIDEO)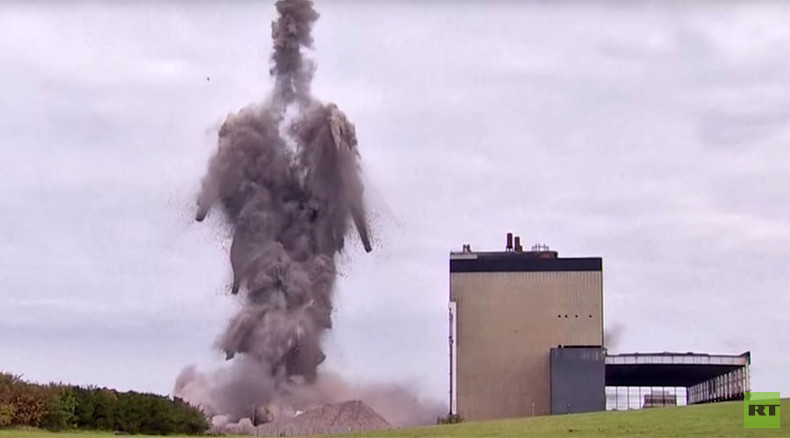 The demolition of the iconic twin chimneys of the Cockenzie Power Station in eastern Scotland attracted thousands of people who had come to bid them a graceful good-bye.
A controlled explosion of the landmarks, located in the East Lothian area of Scotland, was carried out on Saturday. The power station that they were a part of had been decommissioned in March of 2013.
In just a couple of seconds, the 149-metre tall steel chimney stacks hit the ground, as they were leveled after overlooking the local landscape for over half a century.
READ MORE: Smoke on the water: Stunning demolition of Illinois bridge (VIDEOS)
In anticipation of the noon demolition, in the morning local authorities banned entry to an exclusion zone around the power station and introduced some traffic restrictions as a precaution.
Locals not only gathered to watch the spectacle at favorable observation points, but also took up positions on the water, with a whole flotilla filled with gawkers forming in the Firth of Forth.
Local resident Donald McCulloch, the winner of a charity raffle, had the honor of pressing the "button" to blow up the chimney stacks, each of them having 150 holes filled with explosives.
READ MORE: 'Lucky 13': Demolition of Debbie Reynolds' Vegas hotel caught on camera (VIDEO)
"The demolition of the iconic Cockenzie chimneys will dramatically change the Lothians landscape and signals the imminent end for coal in Scotland," said Richard Dixon, director of Friends of the Earth Scotland, as cited by The Edinburgh News newspaper. "For those who've worked at the plant it may well be an emotional day but as a country it shows the positive steps we've taken in the fight against climate change and for clean energy."
The blast was immediately followed by the second explosion that demolished the station's turbine hall. The coal station's last remaining building, the boiler house which opened in 1967, is set to be demolished later this year.