Buried alive: Drunk man dies after construction workers build road over him in India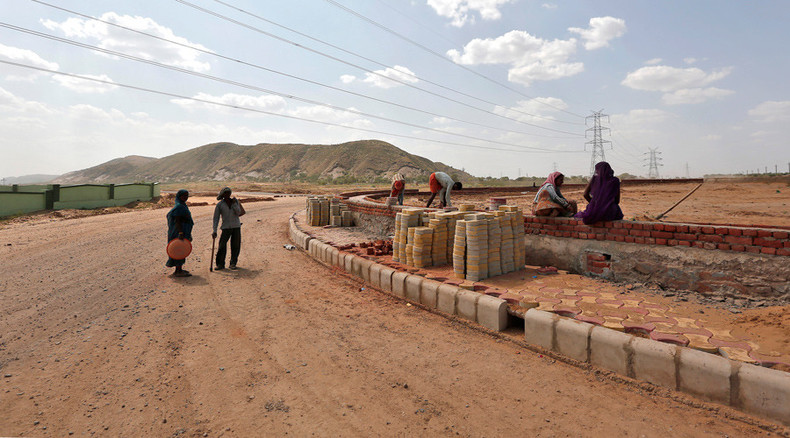 A drunk man in India was buried alive after he fell into a pothole and construction workers built a road over him. Two people have been arrested in connection with the shocking incident.
Latori Barman, 45, fell into the hole on Friday night while walking home from a village fair in the Katni district of the Madhya Pradesh state, The Times of India reported. It is believed that he lost consciousness after the fall, according to an unnamed investigating officer.
The unfortunate man later met his demise at the hands of construction workers, who filled the hole with molten tar and used a heavy roller vehicle to flatten the surface.
"Workers must not have noticed him while filling the pothole with bitumen," the officer said.
READ MORE: At least 104 dead in blast at packed Indian restaurant – officials
Barman's death would have gone unnoticed had residents not discovered his arm sticking out from under the newly tarred road. His body was exhumed and sent for autopsy after the discovery.
The incident sparked anger in the community, with villagers blocking traffic in protest. The demonstration ended after officials assured the locals that legal action would be taken against the construction company.
The driver of the truck and the laborer who filled the pothole have been arrested and booked for negligence leading to death.
READ MORE: Indian girl fights back against her harasser, bringing him to his knees (VIDEO)
According to police, Barman had gone to the fair in Rishi Panchmi with his wife, who stayed the night at her parent's house. He was walking home to his village alone after a brief stop at a liquor shop.
"It was dark and there were no warning signs. He would have been walking in an inebriated condition when he fell into the pit between Udlana and Hata village and lost consciousness. Traffic had been restricted on the stretch as the pit occupied more than half of the road," the officer said.
District collector Vivek Narwal said Barman's family will be given 50,000 Rupees (US$761) as compensation for the incident.
You can share this story on social media: