New Chile quake: 6.3 magnitude tremor hits off Valparaiso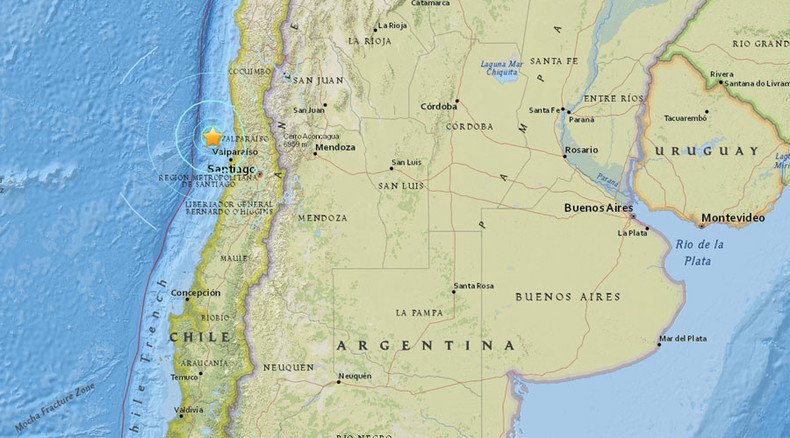 A 6.3 magnitude earthquake has struck Chile. The epicenter was located offshore near the city of Valparaíso, according to the US Geological Survey (USGS).
The quake, which had a depth of 8.7 kilometers, struck 90 kilometers northwest of Valparaíso, a port city on Chile's coast. The city is home to 284,000 people, making Greater Valparaíso the second-largest metropolitan area in the country.
It comes after an 8.3 magnitude quake hit off northern Chile on Wedneday evening, killing 11 people. Twenty others were injured, and one million were evacuated from their homes.
The previous quake also affected Valparaíso, with two-meter waves striking the city.
A total of 1,800 people were left without drinking water in the city of Illapel, according to officials. Meanwhile, hundreds of thousands were left without electricity in the worst-affected Coquimbo region.
The homes of 610 people were so severely damaged that they were unable to return by late Thursday afternoon, according to government data. An additional 179 homes were destroyed.
"We lost it all. It was horrible," 79-year-old Hilda Zambra, whose home was destroyed by surging waters, told Reuters.
The Wednesday earthquake also triggered tsunami waves, some of which managed to reach the coast of Japan.
According to the USGS, the quake was the largest to hit near that area in over 100 years.
Speaking at a press conference, Chilean Interior Minister Jorge Burgos said the 8.3 earthquake was one of the top 30 most powerful in world history.
You can share this story on social media: