Love spell: Bride makes magician husband 'levitate' during first dance (VIDEO)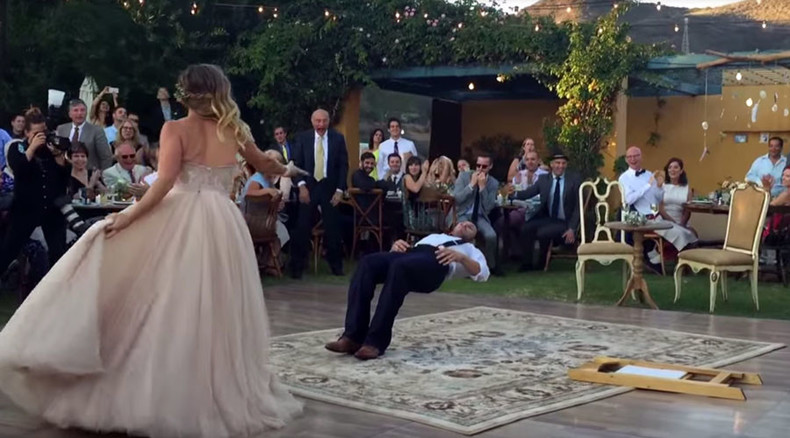 If you marry a magician, don't expect a generic first dance complete with a sappy love song. Instead, expect to "put a spell" on your groom, causing him to levitate in front of your eyes. That's exactly what happened at one incredibly cool reception.
The first dance can be a nerve-wracking event for couples who can't dance. But instead of swaying back and forth for three minutes, magician Justin Willman and his bride decided to do something a little more unique – and the video has gained serious popularity online, with more than 3 million views and counting.
When the footage begins, Willman and his bride, Jillian Sipkins, begin a routine to the R&B classic "I put a spell on you." And while there's no dancing in the traditional sense, the act is clearly well choreographed.
But things take an interesting turn later on, when Sipkins snaps her fingers and puts a "spell" on her husband. That spell seems to make him levitate, as he leans back and supports himself in mid-air, shocking the crowd.
Cheers erupt from the wedding guests, and one particularly happy guest can't seem to get enough – he can be seen jumping out of his chair and waving his arms in amazement.
At the end of the routine, Willman gets up as if it's the most natural thing in the world, much to the delight of his guests.
But like any good magician, Willman isn't about to give away the secrets of his trick.
"Our big move at the end was accomplished with a mix of magic and a few thousand sit-ups," he told People magazine, adding that the stunt took "a few uninterrupted hours each day" of practice leading up to the wedding.
"Pulling it off for our guests made it worth all the prep," Willman said.
Willman is also the TV host of the Food Network's "Cupcake Wars," "Cupcake Champions," and "Halloween Wars." He has previously hosted two shows on The Hub: "Hubworld" and "Scrabble Showdown."