US 'Dragoon Crossing' convoy kicks off its controversial tour in E. Europe (PHOTOS, VIDEOS)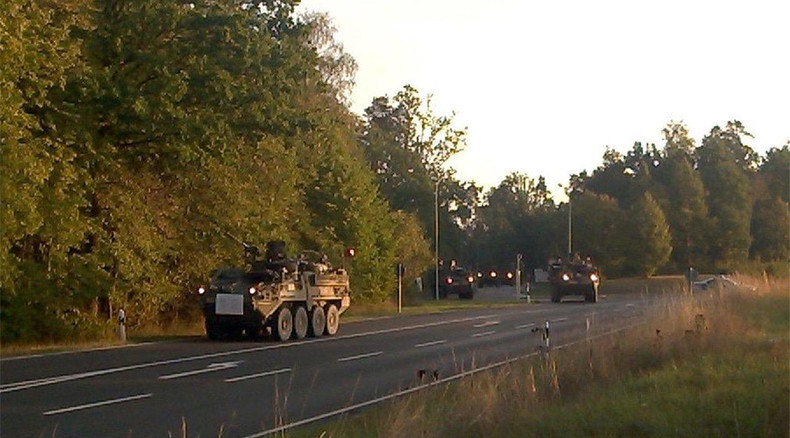 A US military convoy dubbed "Dragoon Crossing," whose aim is "to reassure that the US military is ready if needed" has started its controversial tour. At least 110 armored vehicles will travel the 800-km route from eastern Germany through the Czech Republic and Slovakia to Hungary.
"From September 13 to October 21, around 500 US soldiers and 110 armored vehicles from the US 4th Squadron, 2nd Cavalry Regiment will make the 800 kilometer journey from their base in Vilseck, [eastern] Germany through the Czech Republic and Slovakia to Hungary,"said a statement on the NATO website.
The convoy has been dubbed the "Dragoon Crossing" and aims "to reassure NATO Allies that the United States military is ready if needed," the alliance stated, adding that the soldiers will also be able "to interact regularly with locals" they meet on their way.
READ MORE: 'Stop US Army': Czech activists protest military convoy (VIDEO)
NATO Secretary General Jens Stoltenberg has already arrived in the Prague-Ruzyne military barracks, Czech Republic, on Wednesday.
"You are doing a really important job, extremely important for collective defence and assurance," he told the soldiers.
However, previous military exercises in Eastern Europe didn't help to "interact with locals" or to establish any contact with them. In March, the NATO-US military operation Dragoon Ride, which was held across Poland and the Czech Republic, prompted numerous protests.
READ MORE: Czechs told not to throw tomatoes, eggs at US military convoy
Before the parade, Czech anti-war activists launched the 'Tanks? No thanks!' campaign to protest the procession in the country. They said the convoy was turned into a "provocative victory parade" near the Russian border.
Czech people were even told not to throw tomatoes and eggs at a US military convoy rumbling through Eastern Europe, the local media said, citing the laws of the land. Those in love with egg & tomato-hurling could receive up to three years in prison if convicted.