Winter is coming to Ukraine: 'Normandy Four' vows to speed up 'less confrontational' crisis talks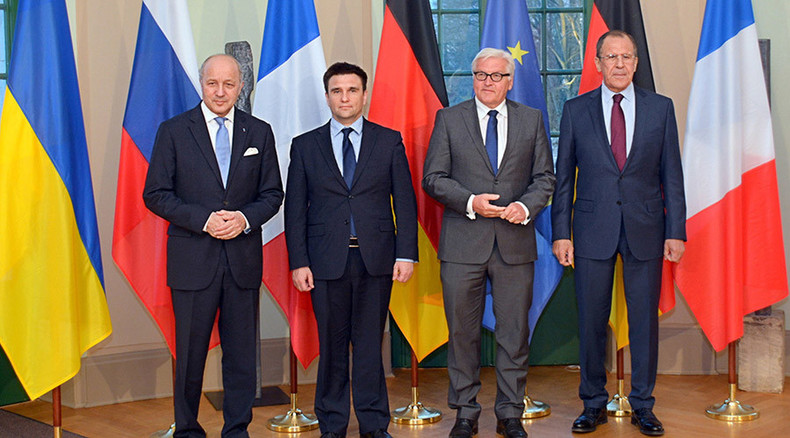 Germany, France, Russia and Ukraine have agreed to step up talks between Kiev and rebels in Ukraine's east before winter sets in. Topics are to include weapons pullbacks and humanitarian issues. Germany says the negotiations have become more constructive.
All of the 'Normandy Four' foreign ministers were generally satisfied with how the ceasefire was holding up, aside from a few violations, Russian Foreign Minister Sergey Lavrov said.
"We, first of all, expressed satisfaction that the ceasefire is observed more or less. Separate cases of violation of this regime are taking place, but in general we have a positive assessment of what is happening," Lavrov told reporters in Berlin.
Germany's Foreign Minister, Frank-Walter Steinmeier, stressed that "significant progress" had been made towards resolving the Ukrainian crisis, noting that the discussions had become less confrontational.
"It has not become easier, but I would like to inform you that the talks were far less confrontational than they were the last time," Steinmeier said. "Contra to our experience of the last weeks and months, we are receiving hopeful sounding news from Ukraine. The newly arranged ceasefire has been holding since the 1st of September, which kind of gives a positive momentum and more incentive to now try and proceed with the Minsk agreement."
The ministers spent a lot of time talking about issues related to the political process. "In my opinion, we achieved tangible progress," Steinmeier added.
Steinmeier warned that the group needs to solve problems concerning humanitarian issues before winter.
READ MORE: Getting Donbass children ready for school
In the meantime, Lavrov pointed out that cuts to Donbass's water supply violate the norms of humanitarian rights as defined by the OSCE, and that this issue needs to be resolved.
Lavrov also said that the 'Normandy Four' wants to see a quick agreement drawn up to pull back weapons in Donbass.
READ MORE: 90% of Kiev's Donbass intel last summer 'appeared untrue' – Ukrainian General Staff
"We spoke today in support of agreement and signing of a document in the framework of a respective subgroup on security in Minsk regarding all details that concern the withdrawal of weapons with a caliber of under 100mm. This stipulates very close verification, and monitoring by the OSCE Special Monitoring Mission," Lavrov said.
"We hope that remaining issues will be coordinated during the upcoming meeting of the subgroup on security, scheduled for September 15-16 in Minsk," he added.
Communication between the Donetsk and Lugansk People's Republics and Kiev needs to be improved by establishing a direct dialogue, Russia's foreign minister stressed.
READ MORE: Normandy Four leaders note 'progress' in Ukrainian ceasefire – Kremlin
Moreover, all the obstacles surrounding local elections in Donbass should be resolved before the leaders of the 'Normandy Four' meet on October 2 in Paris, he said.
"We are interested that those discrepancies, which manifested in the work of the subgroup on political affairs, concerning holding local elections in Donetsk and Lugansk republics are overcome," the minister said. "They can be overcome."
READ MORE: 2 Russians kidnapped by Ukrainian security forces – Defense Ministry
Moreover, while discussing other topics, such as the Iran talks, Germany's foreign minister noted that Russia had played a very constructive role, and that Moscow's position had been essential.
Meanwhile, Ukraine's Foreign Minister, Pavlo Klimkin, said that Kiev is only ready to talk to "legitimate" representatives of Donetsk and Lugansk, and not those who were chosen through what he called the "fake" elections that took place last year.
"If you see the legitimate representatives of Donbass, which are selected as a result of free and fair elections, if you understand these representatives as wanting to return Ukrainian laws to the Donbass, then we are not only ready for dialogue, we have to have it," Klimkin said.
READ MORE: Normandy Four backs withdrawal of tanks, small artillery from Ukraine ceasefire line
The elections that were held in the two self-proclaimed Donbass republics, which the Kiev government has been keen to characterize as "fake," took place on November 2, 2014.
Over 1 million voters in the Donetsk Region and over 630,000 in the Lugansk Region turned up at polling stations to cast their votes. Anti-government leaders Aleksandr Zakharchenko and Igor Plotnitsky won with just under two third of voter support in the Donetsk People's Republic and the Lugansk People's Republic, respectively.