Ceasefire in E. Ukraine is major achievement, no alternative to Minsk accords – Putin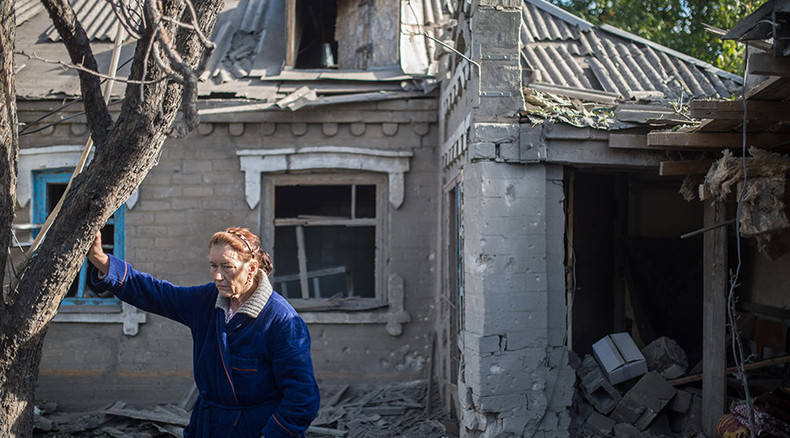 Russian President Vladimir Putin has welcomed the ceasefire in Eastern Ukraine, describing it as the major achievement of the peace process. He also said the deadline for implementation of the Minsk peace accords could be extended. 
"Of course, it is very good that the shelling of Donbass (eastern Ukrainian rebel region) by so-called volunteer battalions and Ukrainian armed forces has ceased…I think it is the major achievement today," Vladimir Putin said in the Crimean city of Sevastopol.
Putin went to Crimea to meet with Italy's ex-prime minister, Silvio Berlusconi on a visit that came at the request of the Italian politician.
Talking to journalists Saturday, Russia's president stressed there was no alternative to the Minsk agreements which were signed by the leaders of France, Germany, Russia and Ukraine in February.
"The most important thing to do is to establish direct contacts between Ukrainian authorities and authorizes of Donetsk and Lugansk People's Republics so that the accords can be fully implemented," Putin said.
The main issue, according to Putin, is a lack of coordination between Ukraine and rebel republics on amending the constitution and adopting the local election law, which is a part of the Minsk agreements.
"Moreover, the amnesty law must be adopted," Putin added. "How can one hold negotiations with people under criminal prosecution?" He also called for the adopted decentralization law to be put into force.
READ MORE: Kiev clashes, grenade explosion injure dozens during protests against constitutional law
Vladimir Putin also commented on the statement of Leonid Kuchma, the Ukrainian representative in the contact group talks, who said that more time is required to implement the agreements.
"In principle, it is possible to prolong some aspects of implementing the agreements, but it is better to strive for implementation of everything we agreed in Minsk in time," the Russian leader said.
Ukrainian President Poroshenko criticized the statement of Kuchma about the need to prolong the Minsk process. "Everybody must implement his obligations by the end of the year," he said.
Putin also spoke about the importance of economic recovery of the rebel-controlled territories. "Thankfully, as I know, Donbass has started to supply Ukraine with coal," Putin said.
The comments came ahead of a Normandy Four meeting in Berlin, attended by Russia's Foreign Minister Sergey Lavrov, among others. The meeting, according to German FM Frank-Walter Steinmeier, will focus on the withdrawal of heavy and light weapons under 100-mm caliber from the line of contact in Eastern Ukraine, local elections, amnesty and other issues.
The conflict in eastern Ukraine erupted in mid-April 2014 after the then-President Viktor Yanukovich had been toppled and the country had been hurled into chaos with eastern regions refusing to accept new authorities in Kiev. According to the UN estimates, about 8,000 people have since been killed in the military conflict.