Hungarian prisoners rush to finish fence along Serbian border amid refugee crisis (VIDEOS)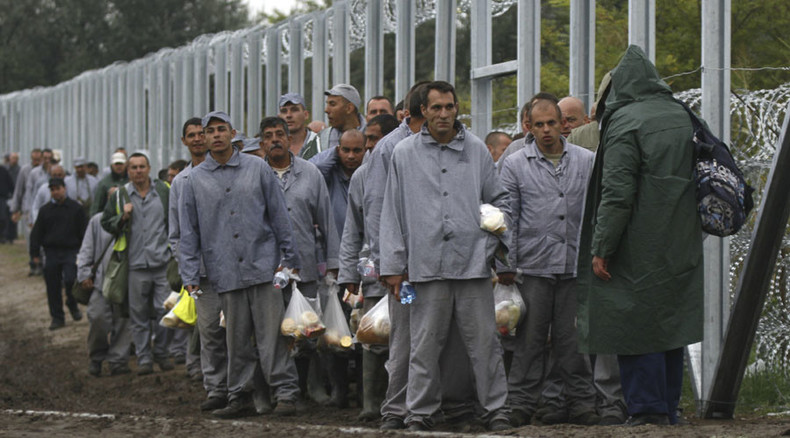 Hungarian prisoners are hurrying to construct a massive fence along the country's border with Serbia, under the watchful eye of guards and police. The barrier is aimed at easing the flow of refugees entering the country.
The 3.5-meter-high fence will stretch 175 kilometers along the Hungary-Serbia border. It will replace a much lower temporary barbed-wire fence, which refugees are currently able to crawl under or climb over with ease.
Ruptly footage shows inmates installing barbed wire on a section of the fence that is already completed.
The prisoners are from the high-security Csillag prison in nearby Szeged, a policeman supervising them told Reuters.
Some 350 inmates are working along the full length of the border, according to the Hungarian prison service. Those prisoners are being supervised by 65 prison guards.
While prisoners have been involved in building the barrier since the beginning, the Hungarian prison service has not stated whether the number has increased since Budapest decided to speed up construction earlier this week.
"The number of prisoners working varies depending on the needs in the current phase of construction," a prison service spokeswoman said, as quoted by Reuters.
She added that the prisoners, who have gone through security checks, volunteered for the work. They are paid 33,000 forints (US$117) a month, minus a daily intermediary fee they must pay to the prison.
All prisoners in Hungary are obliged to work if they are able to do so. Most inmates do this by growing food or working in prison bakeries, farms, or dairies. Some sew prison uniforms or manufacture beds and cell doors.
However, prisoners are not the only ones working to construct the fence. Hungary stated on Friday that it has increased the number of soldiers building the fence to 3,800, as the number of people crossing from Serbia hit a new record, AFP reported.
Fence frustration
Prime Minister Viktor Orban's chief of staff, Janos Lazar, announced on Thursday that the fence could be completed by October, a month ahead of schedule.
And while that is surely good news for Orban's government, others are less keen on the barrier, which has led to tensions both inside and outside of Hungary.
Earlier this week, Hungary's defense minister resigned because Orban was dissatisfied with the progress that had been made in building the barrier.
Meanwhile, Hungary's fellow EU countries have criticized Budapest's actions.
French Foreign Minister Laurent Fabius said in August that the fence did "not respect Europe's common values."
Hungarian Foreign Minister Peter Szijjarto hit back at his French counterpart, saying: "Instead of shocking and groundless judgements, one should instead concentrate on finding common solutions for Europe."
Fabius' criticism led to France's ambassador being summoned to Budapest earlier this month.
Vienna has also criticized the fence, which resulted in Austria's ambassador also being summoned to Budapest.
The European Commission spoke out against the fence just one day after Hungary broke ground in July, with a spokesman saying the Commission does "not promote the use of fences" and "we have only recently taken down walls in Europe, we should not be putting them up."
Tougher action
Prime Minister Orban has warned that beginning next week, refugees who cross into the country illegally will be arrested.
"From the 15th, Hungarian authorities cannot be forgiving of illegal border-crossing," Orban said on Friday.
"Considering that we are facing a rebellion by illegal migrants, police have done their job in a remarkable way, without using force," Orban told reporters.
"They [refugees] have seized railway stations, refused to give fingerprints, failed to cooperate, and are unwilling to go to places where they would get food, water, accommodation and medical care...they have rebelled against Hungarian legal order."
More than 170,000 people have crossed into Hungary since the beginning of the year, most of whom hail from Syria, Iraq, and Afghanistan. Most are using the country as a transit nation, hoping to ultimately reach Germany – a country which has thrown open its borders to new arrivals.
A total of 380,000 people are believed to have arrived to Europe this year alone, in what has become the worst refugee crisis since World War II.
You can share this story on social media: