Soyuz capsule docks with International Space Station, raises crew to 9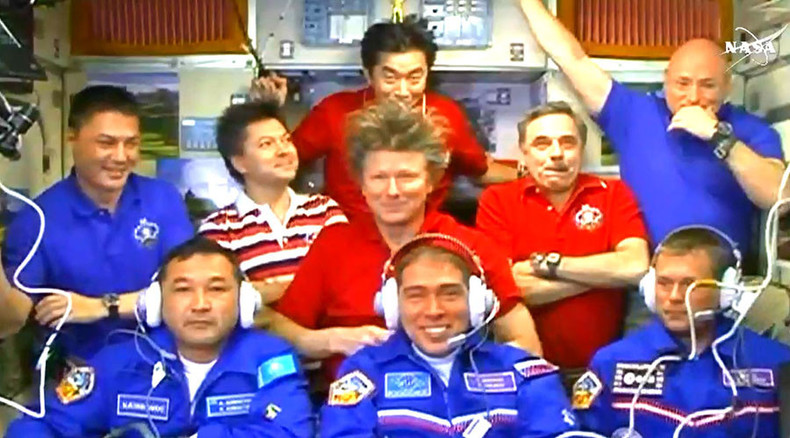 Having spent two days in orbit maneuvering past space debris, the historic 500th Soyuz capsule carrying Russian and Kazakh cosmonauts and a Danish astronaut, has docked with the International Space Station.
The docking happened at 10:42am Moscow time (7:42 GMT), according to Mission Command in Russia.
During their two-day route following the Wednesday lift-off, the spacecraft had to carry out an avoidance maneuver to pass a fragment of an old Japanese third-stage rocket booster launched in 1989. NASA helped out.
Soyuz's two-day-long flight to the ISS was an unusual one. It's more common for spacecraft traveling to the station to dock just a few hours after lift-off.
The arrival of Russia's Sergey Volkov, Denmark's Andreas Mogensen and Kazakhstan's Aidyn Aimbetov has brought the number of crew on board to nine, for the first time since 2013.
The Kazakh member of the crew has brought a number of national dishes into orbit, Interfax reported. ISS inhabitants, weary of regular space-food via tubes, will be able to taste mare's milk, two types of curd and kharcho soup.
READ MORE: Tight space: Soyuz spaceship forced to dodge old Japanese booster debris
The current crew of the ISS consists of three cosmonauts from Russia's Roscosmos space agency - Commander Gennady Padalka, Mikhail Kornienko and Oleg Kononenko. NASA astronauts Scott Kelly and Kjell Lindgren, and Japanese researcher Kimiya Yui are also on the ISS.
Mogensen and Aimbetov are slated to come back to Earth in just over a week, along with Russian Gennady Padalka, the current station commander.
READ MORE: Historic 500th Soyuz rocket sets off from Baikonur