300,000 guns go missing from Belgium's register – report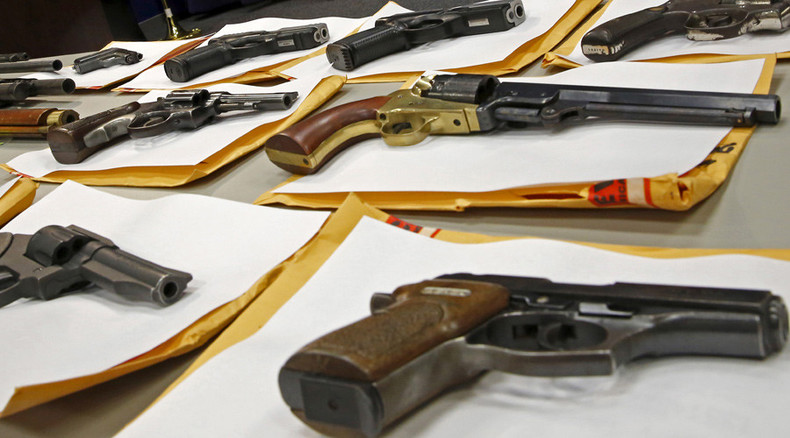 More than 300,000 firearms, listed in Belgium's official register before the country's 2006 arms reform, are now mysteriously missing, local media reported.
The country's gun regulator has recently registered about 427,000 weapons - almost 463,000 fewer than before the reform, Belgian newspaper Le Soir reported. While more than 125,000 were handed in as the new law came into effect, the remainder appear to have slipped through the cracks.
"They exist somewhere, but nobody knows where exactly and who owns them," Philip Ide, head of the federal arms department, told the newspaper.
Guns are strictly controlled in Belgium, available only by permit. Private possession of handguns is permitted only with special authorization, which is said to be extremely hard to get.
Mr Ide believes that most of the weapons that were not regularized in 2006 are located in Wallonia, the predominantly French-speaking southern region of Belgium.
"In the south of the country, gun ownership is embedded in the culture, and has remained that way for generations," Mr. Ide said.
In 2006, a new weapons law came into effect in Belgium, making it harder for local residents to acquire firearms. The law was prompted by a public shooting incident in Antwerp. In May 2006, a Belgian teenager, Hans Van Themsche, killed a two-year-old white girl and her black nanny and severely injured a woman of Turkish descent with a gun he had bought earlier in the day.
READ MORE: 1 killed, at least 3 injured in shooting in majority-migrant Stockholm suburb
In 2011, another tragedy happened when 33-year-old Belgian killer Nordine Amrani went on a shooting spree in Liege. He opened fire on a square awash with children and Christmas shoppers, killing five people, including two teenagers and a toddler. As many as 121 were wounded.
Authorities said it was Belgium's deadliest attack in almost 25 years. In September 2008, Amrani, previously jailed for possession of arms and drug offences, was sentenced to 58 months in jail when police found 10 firearms and 9,500 gun parts along with 2,800 cannabis plants in his home.