365 days in a bubble: Scientists to simulate life on Mars for a year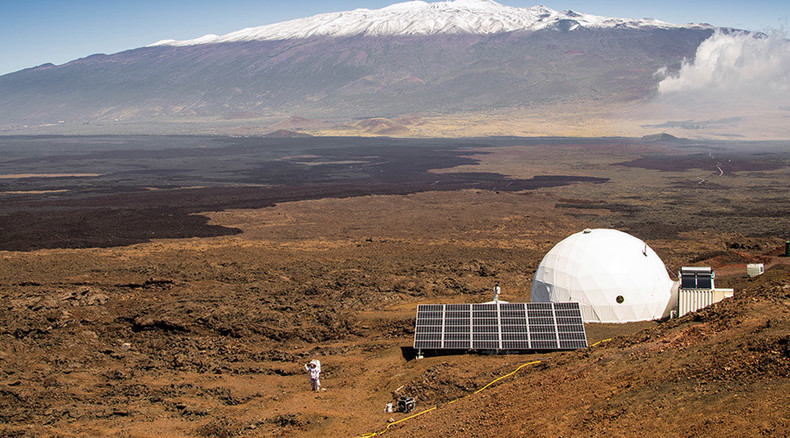 A group of six scientists have shut themselves in a dome on a volcano in Hawaii for a one-year NASA mission imitating life on Mars. The project aims to find out how humans interact between each other in a closed space without fresh air, food or privacy.
Crew commander and soil scientist Carmel Johnston, doctor of medicine Sheyna Gifford, architect Tristan Bassingthwaighte, astrobiologist Cyprien Verseux, physicist and engineer Christiane Heinicke and pilot Andrzej Stewart started their "Martian" mission Friday.
They will spend the whole year in the solar-powered dome located high on the slopes of 4,000-meter Mauna Loa volcano in Hawaii. The dome itself is about 11 meters in diameter and six meters tall.
The location wasn't chosen at random - the only scenery around the dome is reddish volcanic rock, which creates the impression of being on the Red Planet.
One of the "Martians," Sheyna Gifford, described the experiment as "six people who want to change the world by making it possible for people to leave it at will," on her blog, LivefromMars.life.
The Hawaii Space Exploration Analog and Simulation (HI-SEAS) mission will "focus on crewmember cohesion and performance," according to the statement from University of Hawaii at Manoa, which is involved in the project.
"HI-SEAS researchers are working to develop effective team composition and support strategies to allow crews to successfully travel to Mars and back, an estimated three-year journey."
READ MORE: Scientists emerge from 8 months of simulated life on Mars
According to the university, the crew will be monitored via "cameras, body movement trackers, electronic surveys, and other methods."
"UH Manoa researchers and their collaborators will be studying the group's cohesion over time, gathering data on a wide range of cognitive, social and emotional factors that may impact team performance," the university said.
According to Kim Binsted, HI-SEAS principal investigator and UH Manoa professor from the Department of Information and Computer Sciences, "the longer each mission becomes, the better we can understand the risks of space travel."
"We hope that this upcoming mission will build on our current understanding of the social and psychological factors involved in long duration space exploration and give NASA solid data on how best to select and support a flight crew that will work cohesively as a team while in space," Binsted said in a statement in July.
Binsted later told AFP that NASA is spending about $1.2 million on these simulations and has just received funding for at least three more similar projects.
"That is very cheap for space research," she told AFP. "It is really inexpensive compared to the cost of a space mission going wrong."
READ MORE: Lonely planet: Astronauts to simulate life on Mars for 8 months
This is the fourth Mars simulation project led by NASA. The previous which lasted eight months and also included six people ended successfully in June.