Luxury tower block in Ukraine goes up in flames (VIDEOS)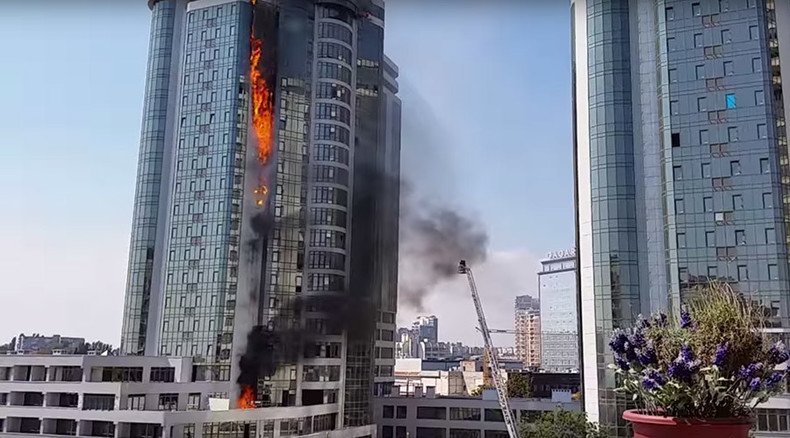 Two firemen have suffered injuries after a fire engulfed a luxury high-rise in Odessa, Ukraine. The fire was able to spread due to flammable materials being used for insulation.
The 22-storey Gagarin Plaza is still under construction, and was empty, save for builders, when the fire started at about noon Saturday.
Eyewitnesses told the local 112 Ukraine TV channel that the fire began at the top floor of the building, and rapidly spread downward to the ground floor.
Emergency services dispatched 13 vehicles to the site, with over 40 firemen deploying six hoses. But they were unable to access the top floors of the building.
"Our ladders only reach the 9th floor," complained Nikolay Chechetkin, the head of the country's emergency services, to NewsOne channel. "To put out a fire this high up, you need water pressure, which can only be provided by electric-powered pumps. But the building has not been connected to the mains."
The fire department of the coastal city said the most they could do now was to contain the blaze. One of their personnel suffered airways burns, due to inhaling smoke; the injuries of another have not been specified.
Chechetkin blamed synthetic insulation materials chosen by the architects for the ease with which the flames were able to spread.
In May, 17 people died in Baku, Azerbaijan, when unsafe Chinese-made plastic paneling – also used for insulation – caught fire in another high-rise.
You can share this story on social media: