Israel braces for new protests as Palestinian hunger striking prisoner's life in balance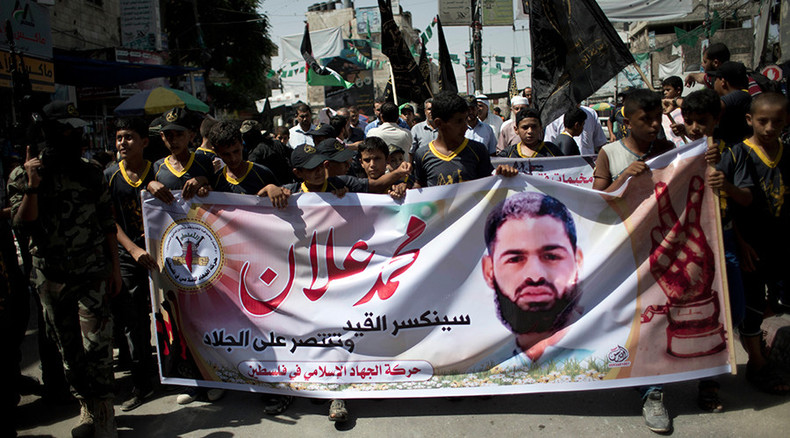 Ashkelon is bracing itself for more protests on Monday outside the hospital where Palestinian prisoner Mohammed Allan, hunger striking for over two months, is being kept. Israel's High Court is expected to meet to decide if Allan should be released.
Sunday saw violent confrontations in front of the Barzilai Medical Center, with Israeli police making at least 15 arrests as hundreds of protesters gathered to lend their support to the Palestinian, who lost consciousness on the morning of August 14 and is still in a coma.
Hundreds of Palestinian supporters gathered to lend their backing to Allan, while police blocked off roads and stopped four busloads of Arabs from reaching the hospital. Dozens of Arabs clashed with security forces, the latter using tear gas and pepper spray to try and restore order.
They were countered by around a hundred Israeli right-wing demonstrators, including dozens of members of the extremist Lehava group. An anti-Arab extremist Baruch Marzel said during the protest, "We want him [Allan] to die as quickly as possible and for him to take as many as possible with him."
"We came here to say that we will not let any Arab take over our country and raise a Palestinian flag here. We'll be here until the terrorist dies or they take him out of Ashkelon," a local Ashkelon resident said at the scene, Haaretz reported.
High Court decision pending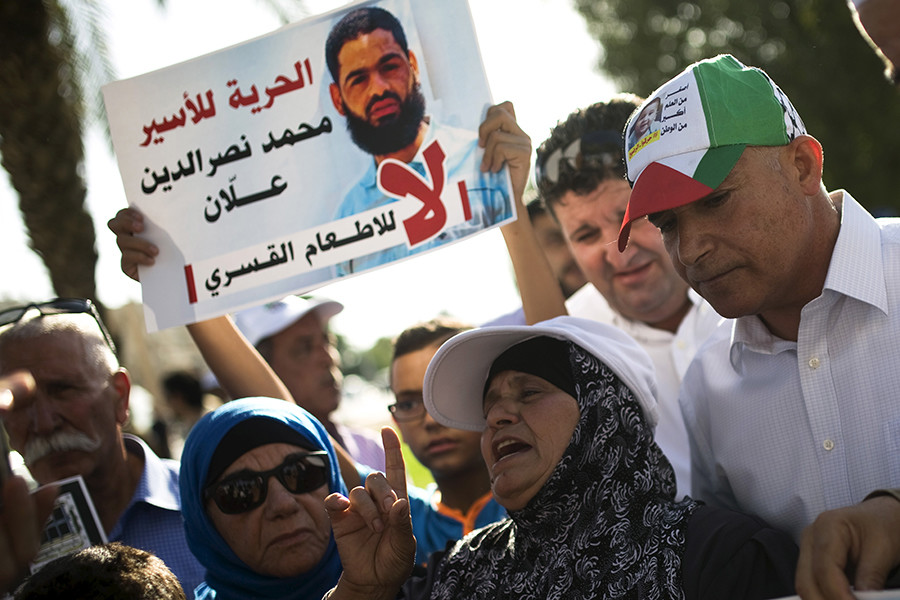 The Israeli High Court of Justice is expected to convene on Monday to discuss whether or not Allan should be released. This comes after his lawyer, Kamal Natur, sent an appeal to the court on August 15, saying that his client should be immediately released from administrative detention, where he has been held without charge since November 2014.
If the court does decide to release him, it is likely to cause a backlash amongst right-wing Israelis. Ze'ev Elkin, the minister of immigration and absorption, told Channel 10 on Sunday, as cited by the Jerusalem Post, that Israel cannot accept his demands to be released from administrative detention.
"The State of Israel can't allow itself to be held hostage to hunger strikes by prisoners because today it's one prisoner and tomorrow it will be others," Elkin said, as cited by the Jerusalem Post. "Today it's a prisoner in administrative detention and tomorrow it will be someone who was sentenced to jail after a fair trial."
Allan is still unconscious, but in a stable condition after being given intravenous fluids and salts, while he is breathing with the aid of an artificial respirator. The Palestinian Prisoner's Club has submitted a request to hospital officials on Sunday, asking them to wake Allan from his coma, so they can assess his situation.
'Violation of rights'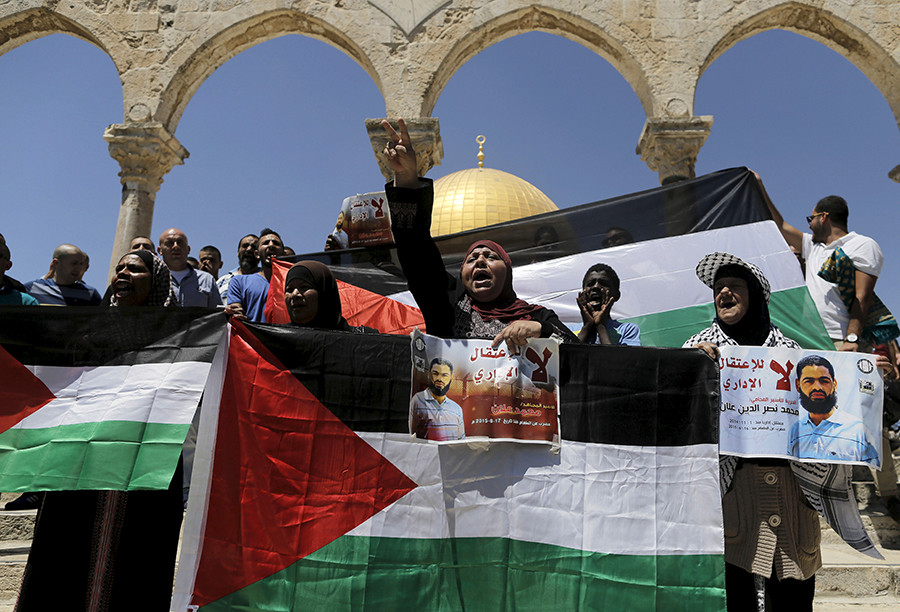 They say the decision to give him fluids is a violation of his desire to undertake a hunger strike, which started over 60 days ago. A doctor, who is working on behalf of the Allan family, Dr. Hani Abedin, was denied access to visit Allan by Israeli Prison Service guards. He had coordinated his visit to arrive with the Joint List Knesset MP Ahmad Tibi, who is also a doctor.
According to Tibi, Prime Minister Benjamin Netanyahu personally intervened to prevent the visit. It was an "inexplicable political decision," the Times of Israel cited Tibi as saying.
Allan could become the first person to be forcibly fed after Israel recently authorized the practice for inmates on hunger strike. Force feeding has been condemned by numerous human rights organizations for being inhumane. The feeding process involves a person being strapped to a chair, before special tubes are inserted through the nostril and pushed down towards the stomach.
An Arab member of the Knesset, Haneen Zoabi, told RT that continuing his hunger strike is the only power he has over the Israelis.
"The political activist has nothing, except his health. So if they are giving him vitamins against his will. This is illegal and a violation of his rights."
Critics have stated that Palestinians do not have many options for protesting indefinite detention practices, so they are forced to resort to such measures.
"The conditions in the Israeli jails for Palestinians are appalling. Over 5,500 people are in custody in Israel. Over 400 of them, like [Allan] are in administrative detention without charge, evidence. He had no idea why he is in prison because he hasn't been told," human rights barrister Mark McDonald said.
Islamists reportedly split over reaction
Allan was originally placed in administrative detention as it was believed he was a member of the militant Islamic Jihad group. The organization met on Friday to discuss what course of action they would take if Allan passes away, saying they would resume rocket attacks on Israeli territory.
Islamic Jihad officials also reportedly met with the militant group Hamas on Sunday as they held meetings in the Gaza Strip. However, sources say that Hamas are opposed to ending the current ceasefire with Israel, even if Allan dies, the Jerusalem Post reports. Hamas has reportedly made it clear to Islamic Jihad that the only response should come from the West Bank and not from the Gaza Strip.
Islamic Jihad spokesman Daoud Shehab has accused the Israeli government trying to "assassinate" the hunger striker. He said that Netanyahu was fully responsible for any harm done to Allan.