Ukrainian officer who killed 8yo in drunken road accident receives state award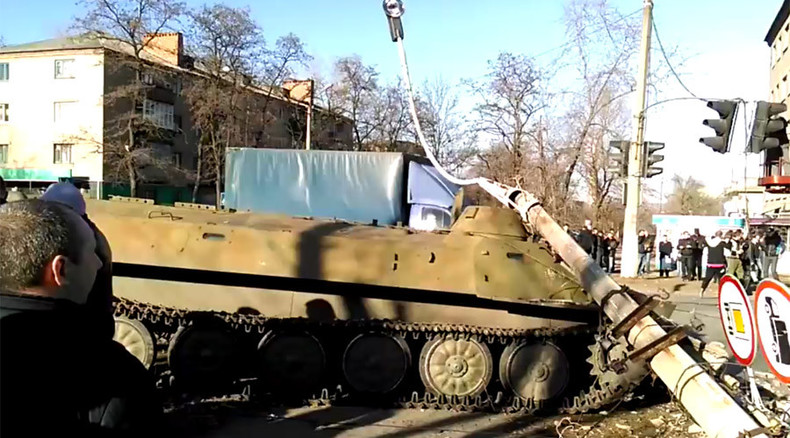 A Ukrainian officer who drunkenly ran an armored vehicle over pedestrians, killing an 8-year-old girl earlier this year has been awarded a state medal. The military claims that President Petro Poroshenko honored the soldier for his outstanding leadership prior to the tragic event.
The Order of Bogdan Khmelnitsky of the third grade was awarded to Senior Lieutenant Marian Rak, one of the suspects in the drunken road accident in March in the city of Konstantinovka in the Donetsk region.
READ MORE: Ukraine cops get 'shoot-to-kill orders' amid unrest over army hit & run killing of 8yo
The Ukrainian General Staff confirmed the award after Rak's name was listed among the recipients in the respective presidential decree. The General Staff argues that the award was bestowed upon the officer for his actions prior to the tragic accident.
Rak was of the two drunk Ukrainian soldiers who, driving a heavy armored vehicle, ran over three people on the sidewalk. A young mother was walking with two children: 5-month-old baby in a stroller and 8-year-old girl Polina. Polina died on the spot, while the mother and the baby were taken to the hospital.
Before slamming into the unsuspecting pedestrians, the armored machine crossed the lawn between the road and sidewalk, hitting two electricity poles.
Locals at the time confirmed that both soldiers, who fled the scene, were so drunk that they could hardly stand on their feet.
Immediately following the accident, an angry crowd started gathering at the scene. Later at night, locals started a riot and burned the army barracks down, demanding that Kiev troops leave the city. The protest however was suppressed by authorities who were allowed to open fire on any provocateurs inciting violence.
The Ukrainian soldiers who drove the military vehicle were later detained by the defense ministry.
"When the investigation ends, those who are guilty will be severely punished," Ukraine's Defense Ministry said in a statement at the time. "Moreover, commanders will be held responsible for the absence of proper control."
But instead, both suspects in the case were released on bail, and now Rak is being awarded with state medal. The 3rd grade order of Bogdan Khmelnitsky is being awarded to the officers for outstanding leadership, organizational ability, and perseverance leading to decisive victory in battle.
You can share this story on social media: