French leopard comes to Sochi to boost gene pool (VIDEO)
Published time: 30 Jul, 2015 13:20
Edited time: 30 Jul, 2015 13:20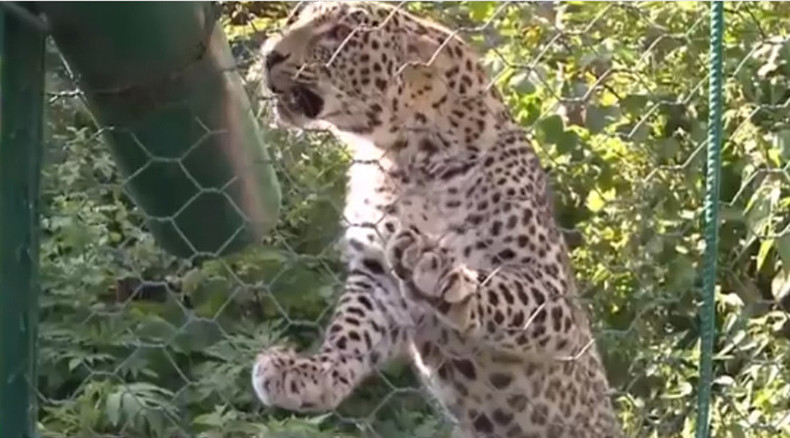 The male leopard, called Simbad, arrived into the city's sanctuary from the Parc des Felins zoological park on Wednesday to participate in breeding and reintroduction program for Persian Leopard in Russia.
After some period in a quarantine area, Simbad will be transferred into an adaptation section where he will learn to hunt in the wild. Should his year-long training be successful, he will be released into the Caucasian State Nature Biosphere Reserve.
The leopard is expected to bring new genes into the family of the leopards already living in Sochi National Park, which will help to avoid genetic complications from blood relatives breeding together.
In return, another Russian male leopard named Grom (Thunder) will be sent to the French zoological park and will stay there for several years before he returns home to Sochi.
"Thunder has 'wild genes' which are of great need for the European program of Persian Leopard conservation in captivity," says Sergey Donskoy, head of the Ministry of Natural Resources and Environment of the Russian Federation as cited by WWF Russia.
Persian leopards (also known as Caucasian leopards) became extinct in the wild 50 years ago, mostly due to poaching. They are currently being reintroduced to their natural habitat by the Caucasus Nature Reserve Leopard Center at the Sochi National Park.
The reintroduction program started in 2009 under the auspices of the Ministry of Natural Resources and Environment of the Russian Federation with participation of the WWF, AN Severtsov Institute of Ecology and Evolution, and the Moscow Zoo.
Simbad is not the first leopard from abroad to participate in the program. The center has already welcomed several felines from Turkmenistan, Iran and Portugal.
"The leopard exchange became possible thanks to the intense cooperation with the World Conservation Union and the European Association of Zoos and Aquaria. Foreign experts have already visited the Persian Leopard Breeding and Rehabilitation Center four times and found the program being unique. We expect Simbad to catch up with his fellow leopards Akhuna and Viktoria and to be introduced into the wild with the first group," says Igor Chestin, director of WWF Russia.