MH17 tribunal would create 'new hotbed of intl confrontation' – Russian UN envoy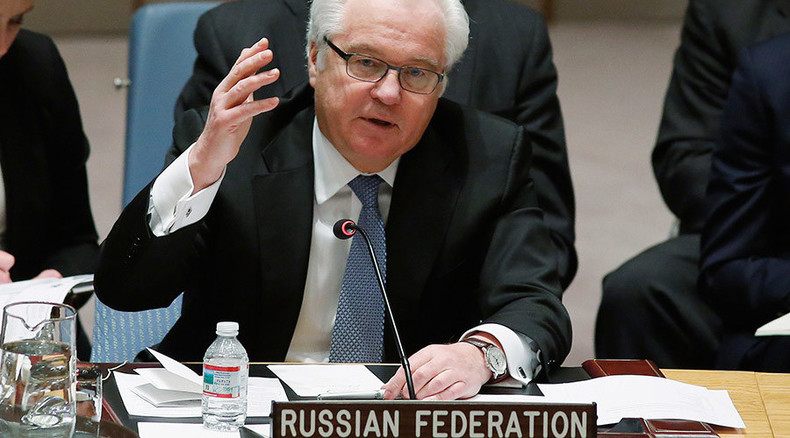 Setting up an international tribunal over MH17 flight crash would be a 'dangerous step' leading to a surge of confrontation in global affairs, Russia's UN envoy said. He reiterated that Russia would vote against it at the UN Security Council.
Russian Ambassador to the UN Vitaly Churkin expressed hope that the draft resolution on the tribunal prepared by Malaysia would not be put to vote at all as he is "unable to see who and how is going to benefit from it."
READ MORE: 'A year without truth': MH17 relatives, independent investigators want 'facts not propaganda'
"There is a clear attempt to create another hotbed of confrontation here that could have very far-reaching consequences for international relations, in an environment where there a lot of global problems that require comprehensive cooperation," Churkin told journalists at the UN.
Churkin: we stand firmly against creation of #MH17 tribunal without clear and open investigation. This would create further rift within UNSC

— Alexey Yaroshevsky (@Yaro_RT) July 27, 2015
A tribunal would be "a very dangerous step" and Russia would do everything in its power to stop it from happening, he stressed.
"We will vote against it I have no doubt about that. If the resolution gets nine or more votes than it's going to be a veto. If it gets less than nine votes, it's just going to be a negative vote of Russia together with some other members of the Security Council. Unfortunately, I think that it will most likely get nine votes," the envoy said.
READ MORE: 'Bodies all over': New MH17 crash site footage minutes after Boeing downing (VIDEO)
He reminded journalists that Russia drafted an alternative resolution on the crash of the Malaysia Airlines Flight MH17, which crashed in eastern Ukraine on July 17 last year, killing all 283 passengers and 15 crew members.
In the document, Moscow proposed to deepen and broaden international cooperation in the investigation of the tragedy, including the involvement of the UN Secretary General, the envoy stressed.
Some elements of the Russian draft were included in the Malaysian resolution, which the country presented on behalf of five states investigating the crash over the Donetsk Region (Malaysia, Australia, the Netherlands, Belgium and Ukraine), he added.
Churkin said that he met with the ambassadors of the investigating countries and found out that they "retracted to an old hardline approach."
READ MORE: Moscow calls for greater UN involvement in MH17 crash investigation, not 'political propaganda game'
The Russian envoy stressed that the differences in the UN Security council over the tribunal and the whole situation in Ukraine do not affect the work on other important issues, like Syria.
Churkin: in fact, i am VERY happy how we've been talking with our US partners lately. In the #MH17 case they're keeping very low profile

— Alexey Yaroshevsky (@Yaro_RT) July 27, 2015
"We're mainly talking to the Americans and it's done very professionally and very deep; we're trying to understand the argument and figure out approach to each other… I am very pleased with the work with the US delegation during the last weeks," he said.
Churkin expressed hope that the US draft resolution for creating a mechanism to establish responsibility for chemical weapons usage in Syria "would be accepted shortly."
Earlier in July, Malaysia prepared a draft resolution calling on the UN Security Council to create an international tribunal and to classify the crash as a threat to peace and security.
Churkin: Ukr gunned down Rus passenger jet in 2001, US gunned down Iranian jet in 1988. No tribunals then #MH17

— Alexey Yaroshevsky (@Yaro_RT) July 27, 2015
According to Russia's foreign minister Sergey Lavrov, the MH17 crash is a result of a criminal offense and doesn't correspond to threat to international peace and security.
A UN Security Council has never organized a tribunal over an air crash, Lavrov said, adding that the push for the tribunal is to blame those whom Washington considers to be responsible.
The Dutch investigators, looking into the MH17 tragedy, said that the plane was shot down while flying over the conflict zone near Donetsk.
READ MORE: Key points of Russian position on flight MH17
However, they have not yet established responsibility for the tragedy, as pro-Kiev forces were fighting with rebels from the self-proclaimed republics in eastern Ukraine at the time.
The Ukrainian authorities and the West blame the Donetsk militias for downing the plane, saying that they used a Buk surface-to-air missile allegedly provided by Russia.
These accusations are denied by the rebels, with Moscow repeatedly warning against blaming anyone before the investigation into the crash is completed.
The Dutch Safety Board that has been heading an international investigation into the cause of the crash is due to release its official report in October, while the criminal investigation is expected to continue until the end of this year.