Putin: 'Europe should be more independent, defend own interests'
European countries should be less beholden to military blocks and the US when considering issues concerning their own national interests, Russian President Vladimir Putin told the Swiss RTS TV channel. Putin also talked FIFA scandal and Islamic terrorism.
"It would be great to see Europe show more independence and sovereignty, and the ability to stand up for its national interests – the interests of its peoples and countries," Putin said in an interview with RTS published on Monday.
He added that he "hopes" another war in Europe is not in the cards.
The Russian leader added that a certain level of sovereignty is undoubtedly lost when joining any "any military-political organization [or] military-political bloc." Putin noted that "France withdrew from NATO in order to preserve its sovereignty to a greater extent than would have been possible had it been part of the organization," referring to the French withdrawal from NATO in the 1960s. France fully returned to the military bloc only in 2009.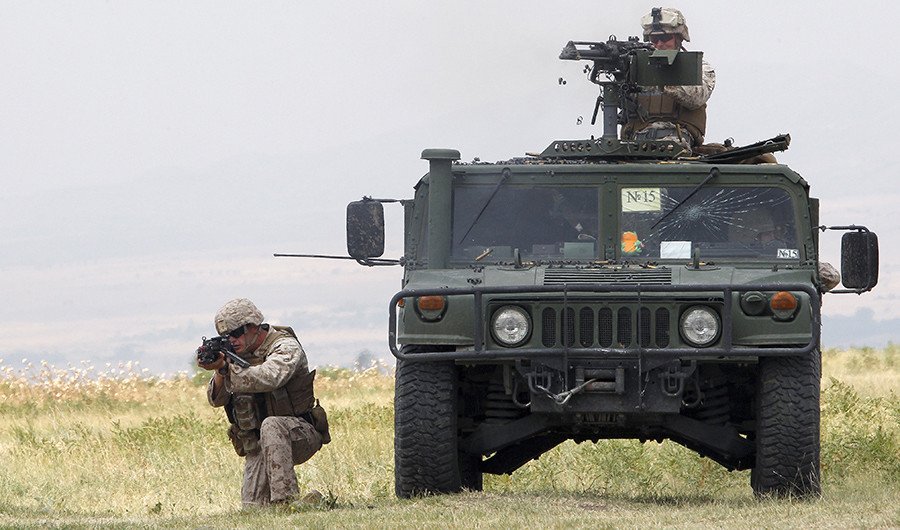 Putin stressed that "it is not our business to analyze the foreign policy of European countries. But you must admit that if we have to discuss inter-European affairs with European partners in Washington, this is not very interesting."
He also mentioned that the US has been "pursuing an imperial policy for a long time." In addition, he cited the opinion of some American political analysts who "believe that this imperial angle hurts the US."
Putin explained that Russia's stance on US foreign policy "has nothing to do with anti-Americanism," adding that Russians "have respect and great love for the USA, and especially for the American people."
Europe fighting terrorism: 'Better late than never'
When answering a question about Russia's earlier efforts to fight terrorism and the lack of Western support at the time, Putin said that European governments had ignored abundant evidence of terrorist activity, such as Al-Qaeda affiliates fighting in the Russian North Caucasus.
"When I asked my colleagues, including Europeans: 'You see what is happening?' they used to respond: 'Yes, we do, but due to various domestic, international circumstances, we cannot support you.' I would tell them then: 'If you cannot support us – at least don't hinder our efforts.'"

Putin, however, noted that the situation has substantially changed. "Europe and the United States have realized the real dangers of extreme manifestations of radicalism and joined in the fight. As the Russian people say – it is better late than never."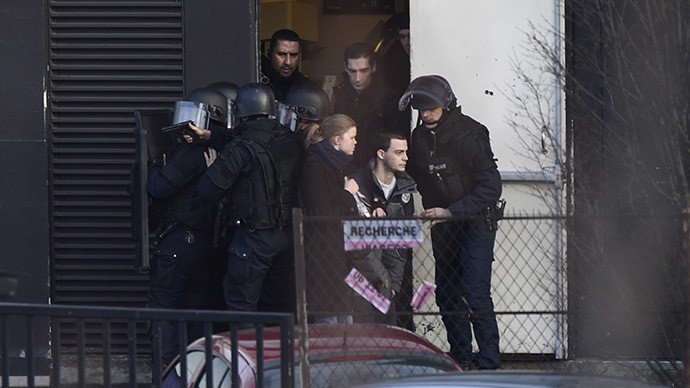 The Russian leader also said he hopes that cooperation with the West will go beyond counter-terrorism, adding that he looks forward to resolving the situation in Ukraine as well several economic issues: "We will engage in dialogue and work out a solution acceptable to all."
Putin criticized the US government's self-perceived right to pressure other countries around the world, acting from a policy of "who is not with us, is against us." Still, with enough patience it is possible and necessary to work with the American side on solving global issues, Putin said, praising international efforts that have led to a recent deal on Iran's nuclear program.
'EU's right wing not supporting me, but national interests'
Asked to comment on the "ironic" turn in European politics, which has seen right-wing political parties gain public support, and seemingly speak out in favor of Putin's statements as opposed to politicians on the left, the President said the underlying reason was Washington's troublesome interference into the domestic affairs of other nations.

Putin did not agree that 'surprise' endorsements of his policies or words from the likes of Marine Le Pen of France's National Front or Swiss Democratic Union of the Centre (UDC) had anything to do with him personally. He described it as a "tectonic shift in Europeans' public conscience" in the direction of protecting national interests, including from foreign political interventions.

According to Putin, a number of issues Europe is facing now, including the influx of migrants from places such as war-torn Libya, have to do with "decisions taken over the [Atlantic] ocean." In fact, Europe is now paying for decisions it did not make, he stressed.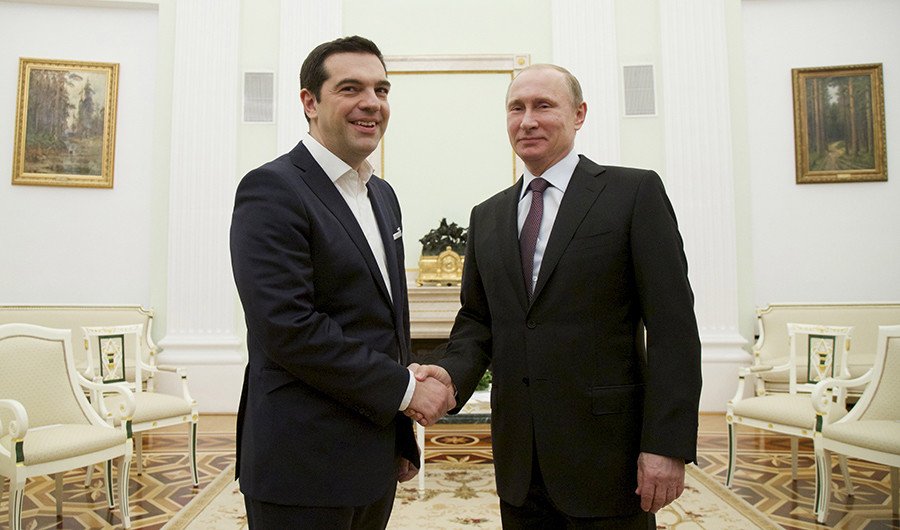 'Are UK, US failed FIFA bids behind corruption scandal?'
After several questions from Swiss media on the FIFA corruption scandal, Putin said he doesn't believe it had anything to do with actions of the organization's head, President Sepp Blatter, hinting that he views the allegations as politically motivated.
"We all know the situation developing around Mr. Blatter right now. I don't want to go into details but I don't believe a word about him being involved in corruption personally," Putin stressed.
The statement comes days after Blatter pledged FIFA's "full support" of Russia in hosting the 2018 World Cup at the opening ceremony of the preliminary draw in St. Petersburg.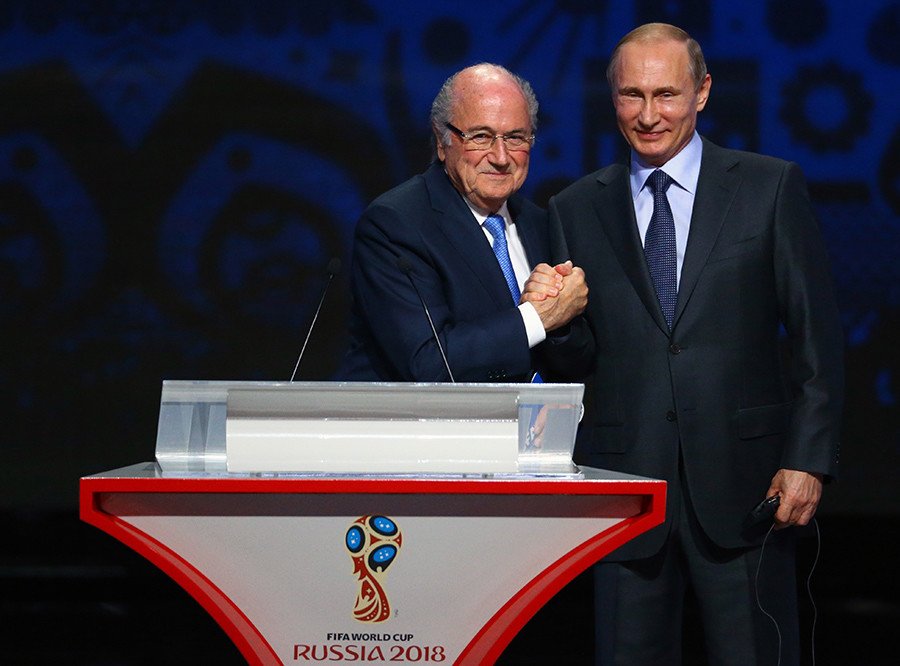 READ MORE: FIFA passes resolution assuring 'full support' of 2018 World Cup in Russia - Blatter
Blatter announced his resignation in June amidst a bribery scandal pursued by US, Swiss and other authorities. While several FIFA officials have been indicted, Blatter has denied any misconduct and will continue to serve as the group's acting president until a new extraordinary session can elect a new head. The scandal coincided with preparations for FIFA World Cups in Russia and Qatar, which are to be held in 2018 and 2022 respectively.
Putin questioned whether the efforts to pursue the investigation stemmed from failed attempts of the US and its key ally, the UK, to secure bids to host the 2022 and 2018 World Cups: "The way this fight against corruption looks makes me wonder if it isn't a continuation of the bids for 2018 and 2022."
"If someone is suspected for committing a crime, then evidence is collected and transferred to a prosecutor of the country the alleged person resides in. But this is in no way connected to one country – big or small – going around the world, dragging to jail individuals that it wants."
Putin praised "people like Mr. Blatter" – the heads of big international sporting federations or those organizing the Olympic Games –for actually bringing nations from around the world closer together and improving the ways they interact. "If there is anyone who deserves the Nobel Prize, it's those people," he stressed.
You can share this story on social media: