Kyrgyzstan cancels cooperation treaty with US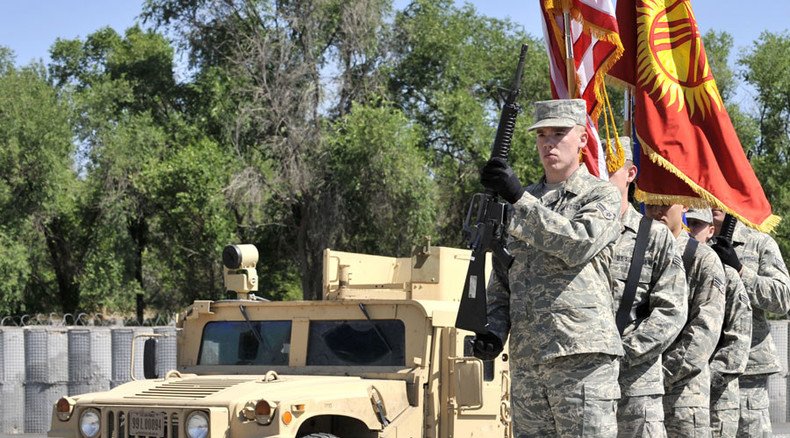 Kyrgyzstan has cancelled a cooperation treaty with the US which has been in force since 1993. The move was prompted by a human right prize given by Washington to an activist serving life sentence for involvement in the killing of a police officer.
The bilateral agreement that helped facilitate cooperation between the countries in certain areas was ordered to be renounced by Kyrgyz Prime Minister Temir Sariev. With the document to become invalid, US aid to Kyrgyzstan brought into and out of the country will no longer be free of taxes and other custom duties starting from August 20.
US civil and military aid personnel, working in Kyrgyzstan will be deprived of their near diplomatic status, which they had been receiving under the agreement.
On Monday, the US warned Kyrgyzstan that if the accord got canceled, it would damage a range of its aid programs in the country.
READ MORE: Key US air base supplying Afghanistan closes
Last week, the US State Department decided to hand its Human Rights Defenders Award to Kyrgyz national Azimzhan Askarov, who is jailed for life convicted of taking part in the murder of a Kyrgyz police officer. Kyrgyzstan's Foreign Ministry protested Washington's decision to reward Askarov, who played an active role in ethnic riots between Kyrgyz and Uzbeks in his country in 2010.
READ MORE: 'US interest in Kyrgyzstan: Strategy of global dominance'
The US choice of this year's award winner has been called "pure politics" by a number of experts and political analysts. While Brian Becker from the Answer Coalition said it was "designed to support the opposition [in Kyrgyzstan]," political expert Srdja Trifkovic called it an effort to destabilize the regime "under the auspices of democratic change."
"Whenever relations between the US and a certain country deteriorate because the country is no longer keen to be the US strategic asset – like a joker from the sleeve – human rights activists are produced," Trifkovic told RT.
Last year the US had to shut its military base in the country which raised much controversy during its existence since 2001. The Transit Center at Manas was as US military installation at Manas International Airport near the capital of Kyrgyzstan serving the primary air supply hub for the ISAF's contingent during the Afghan military campaign. The staff of the hub had full diplomatic immunity at the time, and all cargo delivered to the airport was exempt from border and customs inspection.
Yet the US has not lost interest in Kyrgyzstan, strategically located right at the crossroads between Kazakhstan, Russia, China, Afghanistan and a number of other Central Asian countries. As the US contingent withdrew, Washington has built a new larger embassy in Kyrgyzstan, shipping tons of unknown cargo by diplomatic pouch. The secret shipments raised many concerns from critics, but Washington insisted that the cargo was nothing more than construction materials for diplomatic premises.
When the US lease at Manas Air Base had ceased in 2014, Washington was "effectively watching one of the putative, important geostrategic assets in Central Asia slipping away," Trifkovic pointed out. "It's curious that they weren't so concerned about this particular human rights case – as they call it – while they were still in possession of the Manas Airport."
You can share this story on social media: