US arms maker Raytheon 3D-prints guided missile parts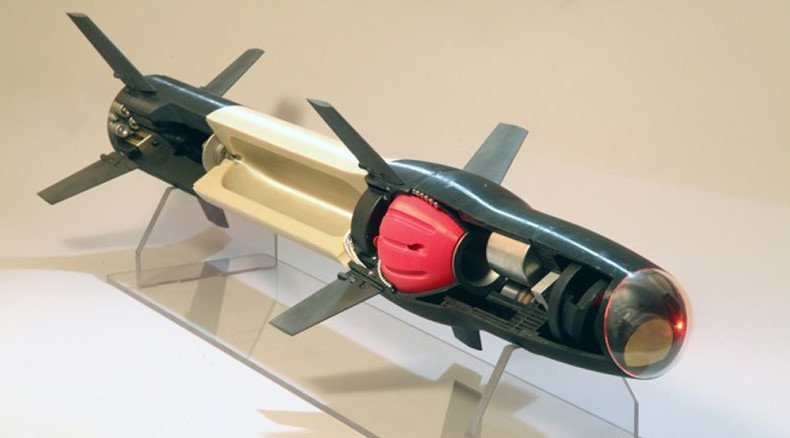 US arms producer Raytheon says it has manufactured most parts of a guided missile through 3D-printing. The company is working on adding complex electronic circuitry to the list of things that can be fabricated this way.
Researchers at Raytheon Missile Systems currently can 3D-print roughly 80 percent of a missile's components, including rocket engines, fins, parts for the guidance and control systems, and more, the company said.
"You could potentially have these in the field," said Jeremy Danforth, an engineer who has printed working rocket motors. "Machines making machines. The user could [print on demand]. That's the vision."
Producing ordinance tailored for a specific mission on demand is what the Pentagon is looking for. The US military want weapons that can be adapted for a task on hand and obtained with few logistical hurdles.
READ MORE: Weapons of mass production: US Army making warheads with 3D printing
At the moment, however, 3D printing technology requires the controlled environment of a dedicated factory to work properly. For Raytheon it's about cost efficiency and streamlining production, as it allows shorter development cycles and parts that would be costly or even impossible to machine.
"When we print something, we have fewer piece parts, so your supply chain becomes simpler," said Leah Hull, 3D printing manager for Raytheon. "Your development cycles are shorter, you're getting parts much faster. You can get a lot more complex with your design because [you can design] angles you can't machine into metal."
"You can design internal features that might be impossible to machine," said engineer Travis Mayberry. "We're trying new designs for thermal improvements and lightweight structures, things we couldn't achieve with any other manufacturing method."
The company says it is currently researching ways to 3D-print complex electronic circuits and microwave components. A further goal is to fabricate integrated systems rather than separate parts that require assembly.
3D-printing went from being a geek hobby into a mainstream issue after the technology evolved enough to produce firearms. Enthusiasts have gone from home-making simple handguns to automatic rifles over the years.
The progress was hailed by Second Amendment enthusiasts, who said it empowered people to defend their civil rights, but was met with caution by many others, who said it would escalate gun violence problems. But for the time being you won't be able to print a guided missile at home - 3D-prining of missiles remains a task beyond the reach of hobbyists, so Raytheon's progress won't add to that debate.
You can share this story on social media: