More than 50% of Germans disapprove of new Greek deal – poll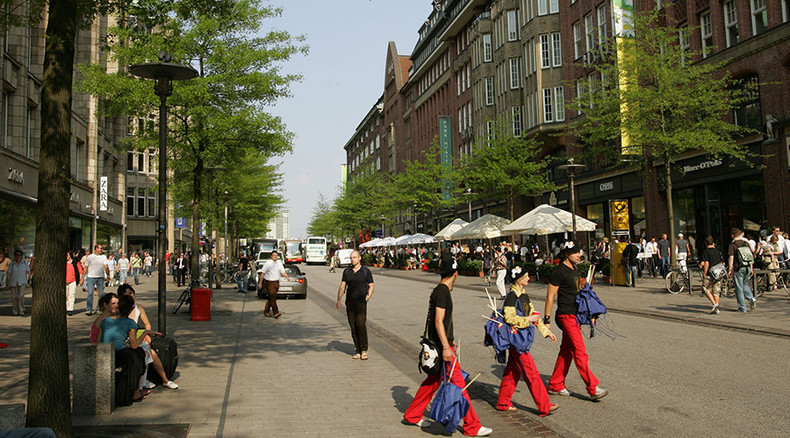 Most Germans oppose the planned deal between Greece and its European creditors, with a significant minority preferring a hard stance towards Greece, and many even favoring its exit from the eurozone, the latest opinion poll shows.
READ MORE: Disgraced ex-IMF chief Strauss-Kahn slams new Greek deal as 'deadly blow'
Fifty-six percent of respondents said they disapprove of the newly proposed Greek deal, while only 29 percent regarded it as positive, according to a new survey conducted by the YouGov market research company. Out of the 56 percent disapproving, 23 percent saw it as "very bad."
Only 2 percent defined the deal as "very positive," with another 27 percent calling it "rather positive."
On Friday Germany gave parliamentary approval to further Eurogroup negotiations on the bailout proposal that would transfer €86 billion ($93 billion) to the crisis-hit country within three years.
The YouGov poll, conducted among 1,380 Germans on Friday, also showed that the Greek deal is generally opposed across the country's political spectrum. As many as 56 percent of the Merkel's conservative CDU/CSU Union supporters disapproved of the new agreement, joined by 49 percent of Social Democrat (SPD) backers – the Union's coalition partner. Seventy percent of German Left Party (Die Linke) voters and 55 percent of the Greens also view it negatively.
READ MORE:Germany OKs negotiations for 3rd Greek bailout deal
Additionally, Germans are still inclined to adopt a tougher stance towards Greece, as almost half of them (48 percent) favor a Grexit, although the support for Greece leaving the Euro has fallen from its March peak of 59 percent.
Divisions within government
Amid the discussion of the third bailout program, tensions are rising within the German government, as well as between the Social Democrats (SPD) and Merkel's conservative CDU/CSU Union – the German parliament's ruling coalition partners.
German Vice-Chancellor and Economy Minister, Sigmar Gabriel, recently criticized the conservative Finance Minister, Wolfgang Schaeuble, for proposing a temporary Grexit.
READ MORE:'Grexit' better option for Athens' debt relief- German finance minister
During the Eurogroup talks last week, Wolfgang Schaeuble suggested that Greece could exit the Eurozone for five years in order to address its economic problems. He proposed that this should be the ruling coalition's position on the Greek crisis.
Sigmar Gabriel sharply criticized the finance minister's proposition, adding that he had learned about Schaeuble's proposal only after it had been presented during negotiations in Brussels.
"In my opinion it wasn't sensible to make this suggestion as a German suggestion," Gabriel said in an interview to the German ZDF channel.
"I'd say one should have done that differently, especially as he knew that we Social Democrats are only prepared to talk about Greece leaving the eurozone solely in the case that the Greeks want that themselves," he added.
Schaeuble came under fire both at home and abroad immediately after making the proposal. During the July 17 session of the German parliament, Left Party leader Gregor Gysi referred to Shcaeuble's proposal as an attempt to "destroy the European idea," while the chairwoman of the Greens' parliamentary group, Katrin Göring-Eckardt, said Grexit would be "a historic mistake."
READ MORE:War on Twitter: #BoycottGermany trending over #BoycottGreece
Even Angela Merkel distanced herself from her finance minister, saying that a temporary Grexit "would not work," prompting Gabriel to imply that there was a "conflict" between Merkel and Schaeuble. Nevertheless, the finance minister insisted that he was "on the same path with the Chancellor," although he admitted that they did not always see things eye-to-eye, Der Spiegel reports.
Though facing sharp criticism from his peers, Wolfgang Schaeuble enjoys the most popular support, with 49 percent of Germans approving of his stance, according to the YouGov survey.