Kiwi man grows church out of living trees, couples line up to get married (VIDEO)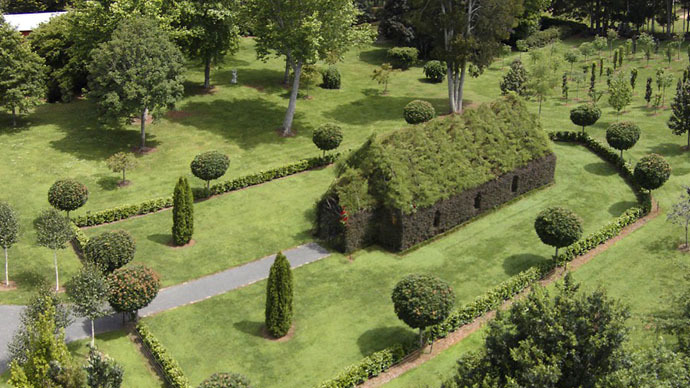 Barry Cox wanted to be the Pope when he was a boy. Six decades later he built a church made from trees. He designed it as a retreat from society, but couples have been lining up to book weddings at one of most unconventional churches in New Zealand.
The man spent years touring Europe and America, often on a motorcycle, studying the nuts and bolts of church architecture. It took him four years to create a unique chapel on his 1.2 hectare property near Cambridge.
Cox's business involves shifting large mature trees with a mechanical tree spade, so he knows better than anyone how to move colossal specimens into place.
"I cleared the area in April 2011 and made the iron frame, drawing on all the research I had done over the years of studying churches. I wanted the roof and the walls to be distinctly different, to highlight the proportions, just like masonry churches," he told Stuff.co.nz..
Alnus glutinosa 'Laciniata' was reportedly chosen for the stunning roof of the church which seats 100. The walls of the church are made from Copper Sheen, an Australian tea tree with thick foliage.
To keep it looking pretty, Barry says he trims it every six weeks. The altar also has a story to tell, having come from Barry's family church in Shannon. It's made of marble from Lake Como in Italy, from where his ancestors come.
Weather can be a problem sometimes, so Barry has to adjust foliage after heavy rains or winds. But visitors come to the church, officially opened to the public in January, "whatever the weather," happy couples among them.
"We wanted somewhere different and special, and the Tree Church is all of that and more," Barry's friend, Donna Signal, told Stuff.co.nz.
"We are not religious at all, but felt that the Tree Church gave our wedding a sense of venerability in a natural, relaxed and non-denominational way," she added.