Australia delaying visas to Russian Roscosmos team heading to UN satnav conference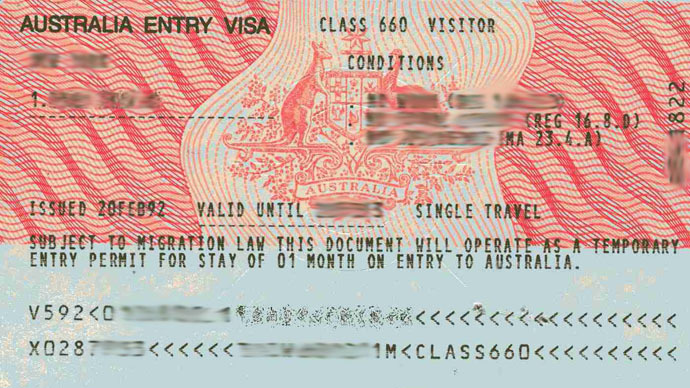 Canberra has not issued visas to eight out of 10 of Russia's Roscosmos space agency delegates. They hope to attend a UN satellite navigation symposium in Queensland and their applications were submitted a month ago.
The Russian delegation won't take part in the International Global Navigation Satellite Systems (IGNSS-2015) symposium in Queensland's Gold Coast if Australia doesn't grant visas to the rest of the team, Russian daily Izvestia reports.
READ MORE: Russia won't go to OSCE parliamentary session in Helsinki – Duma speaker
All members of the delegation, representing Russia's leading space industry institutions, applied for visas on June 6-7, which is in line with the Australian government's requirements. "All visitor visas should be lodged at the Australian Embassy in Moscow at least 4 weeks ahead of your travel date," as stated on the website of Australia's Russian Embassy in Moscow.
Visas have been issued only to Victor Kosenko, deputy general designer of JSC Information Satellite Systems (which manufactures GLONASS satellites), and Sergey Revnivykh, who co-chairs a working group within the UN committee on global satnav systems.
"On June 9, I informed the IGNSS-2015 organizing committee that either visas are granted to all of us, or we stay home as one," Sergey Revnivykh told Izvestia. "Looks like our documents have been scrutinized for real," Revnivykh told the daily.
"They called me from [the Australian] consulate, asking for the exact military unit I did military service in and give the names of commanders. I have never been in service in my life and had put this information on the visa form. They never say anything to the point, repeating again that the documents are being processed," Revnivykh said.
READ MORE: Visa sabotage: UK bars Russian delegation from Farnborough Airshow over Ukraine crisis
The Russian delegation planned to fly to Australia on Friday, June 10, so if there are no visas granted by midday, the tickets will be canceled, Izvestia report.
The Russian experts are supposed to take part in discussions on the future compatibility of global satellite navigation systems (GSNS), international monitoring of GSNS characteristics and protection of GSNS assigned frequency bands.
The situation with Australian visas to Roscosmos experts mirrors a similar scenario last year, when Russians – again all but two – were denied Canadian visas to attend the 65th International Astronautical Congress in Toronto. Likewise, the Roscosmos delegation chose to ignore the congress en bloc.